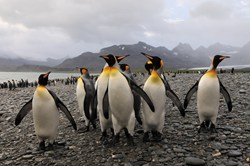 We're seeing a shift in the Antarctica cruise industry as a whole towards incentivizing early bookers with deeper discounts.
Missoula, MT (PRWEB) July 31, 2013
Adventure Life, the one-stop source for reserving expedition cruises world-wide, is offering discounts of up to 25% to early bookers on Antarctica cruises for the 2014/2015 season. Discounted trips include an 11-day excursion on the Ocean Diamond expedition cruise ship departing from Ushuaia, Argentina with stops at the South Shetland Islands and the Antarctic Peninsula. For more information and other Antarctica cruise discounts, call Adventure Life at 800-344-6118 or visit http://www.adventure-life.com.
"We're seeing a shift in the Antarctica cruise industry as a whole towards incentivizing early bookers with deeper discounts," said Monika Sundem, Sales Manager at Adventure Life. "If this strategy works, departures will fill up earlier allowing the early-birds to enjoy the best deals as opposed to giving that break to last minute bookers as has previously been the case."
The Ocean Diamond cruise ship is the latest in polar vessels to explore Antarctica. One of the many attractive features of this 189 passenger vessel is its fuel efficiency. This allows the ship to offset its carbon emissions through an accredited provider, making it the first carbon-neutral ship in the polar adventure industry. Guests enjoy the many indoor public spaces, spacious cabin arrangements and fine dining aboard the Ocean Diamond.
Discounted departures include dates in November and December 2014, and January 2015 with some deals expiring July 31st and others extending to September 30th, 2013.
November/December is spring-time in Antarctica with warmer temperatures and longer daylight hours allow for ample photography opportunities. Later in the season in January/February, receding ice opens more distant destinations along the Antarctic Peninsula. Wildlife activities get into full swing, offering travelers on Antarctica cruises a wide array of animal behavior to witness.
For more information on these Antarctica cruises or other small ship cruises, visit http://www.adventure-life.com or call 800-344-6118.
About Adventure Life:
Adventure Life is a company of travelers with a passion for sharing the world with others. Our travel experience runs deep, from years volunteering in rural Africa and Central America, to research trips in Asia, studying in Europe, guiding in the Rockies, and just bouncing around every corner of the world. This deep experience is the reason behind our pioneering approach to travel and award winning itineraries. For nearly fifteen years we have been creating personal itineraries that immerse our travelers in the vibrant colors of a place, leaving both our guests and hosts enriched by the experience. From our beginnings as a Latin America specialist, we now offer private journeys, small group tours, and expedition voyages throughout the world. We pride ourselves on our intimate knowledge of our destinations and our dedication to sharing the world.