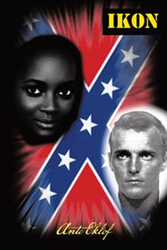 NORRTÄLJE, Sweden (PRWEB) September 03, 2015
Author Ante Eklof's debut novel, "Ikon" (published by Abbott Press), depicts interracial romance amidst backdrop of racism in 1960s American South.
A young, naïve Swedish man arrives in Alabama, unprepared for the racially polarized American South of the 1960s. He witnesses a white man bullying a young black woman. He is fascinated by her dark beauty and risks everything to break the taboo of interracial romance.
"'Ikon' is not just a Romeo and Juliet story," Eklof says. "I want to show that there are complex and unique psychological factors in the 'American Dilemma' that even the famous and exhaustive 1,500 page study of that name preferred to leave unexplored.
An excerpt from "Ikon":
"Born of his pain, a surprising insight came to him as a sudden flash of revelation. It was a curious insight, a peephole into the glowing lava currents of subconsciousness.
He detested those men because of what they stood for and what they held holy. They doted on depictions of a half-naked, pale, emaciated, bloody, tortured-to-death Jesus. They revered the symbol of pain, humiliation, and death! On the other hand, in their twisted minds, they were convinced that sex with black people was terrifyingly sinful. They denied their hunger for passion and fleshly pleasure and thought that those things led to eternal suffering in hell.
How insanely macabre, sick, and irrational! They reverently drank the blood and ate the flesh of innocent Jesus, convinced that doing so would save them from Satan's clutches—provided that they felt enough guilt and remorse and denounced all that led them into temptation."
"Ikon"
By Ante Eklof
Hardcover | 6 x 9 in | 234 pages | ISBN 9781458216335
Softcover | 6 x 9 in | 234 pages | ISBN 9781458216311
E-Book | 234 pages | ISBN 9781458216328
Available at Amazon and Barnes & Noble
About the Author
The experience of living in the American South in the 1960s was revelatory for Ante Eklof. "Ikon" depicts Eklof's dramatic encounter with the complex and emotion-laden issues of the 1960s American South. Inspired by these experiences, and intrigued by those issues, Eklof wrote "Ikon," his debut novel.
Abbott Press is an Author Solutions, LLC, supported self-publishing imprint dedicated to helping writers bring their literary vision to print. For more information, or to begin publishing a book today, log on to abbottpress.com or call 866-697-5310.