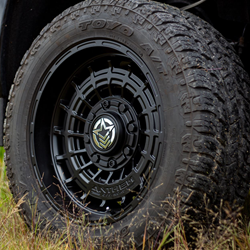 The wheel design resembles a jet turbine which is where the Viper name came from because of the Viper Multi-Role Fighter Aircraft.
BATAVIA, Ill. (PRWEB) November 12, 2020
The Anthem Off-Road Viper is the newest addition to the Anthem family. This wheel has an incredibly aggressive design that looks ready to take on even the worst of conditions off-road. The Viper is a full-face styled wheel which gives it the bold look that it bolsters.
The designer, Jon Chartier, says that his inspiration came from many places. One being car wheels of all things, he liked the look of car wheels with really small windows and wanted to be able to put that into an off-road wheel. He said he wanted to try something new and different, most wheel companies right now are creating multi-spoke wheels and he wanted to go in a different direction and shake things up with the full face design. Once the design came to fruition he decided it was too heavy and took out bits and pieces to lighten it up. Once he saw the final product he thought it looked like an airplane turbine which is where the Viper name came from because of the Viper Multi-Role Fighter Aircraft.
Some of the most notable design features of the Viper include "Anthem Off-Road" engraved into the outer ring of the wheel. This is something that isn't incredibly common in the truck wheel market and Anthem has executed it very well. Around the outlet lip of the wheel there are pockets that actually make the wheel pair really well with just about any tire design. Finally, if you look closely at the spokes of this wheel, you'll notice that they're actually designed to direct air inwards towards the brakes to help with cooling.
If you didn't know, Anthem custom drills their wheels to fit just about any bolt pattern meaning no matter what you drive, Anthem Off-Road will be able to accommodate your bolt pattern so you can run a set of Vipers on your vehicle. This is something that is pretty uncommon in the world of aftermarket wheels and it's why Anthem Off-Road is loved by so many outdoor enthusiasts.
In a market that is so flooded with large spokes and massive windows, it's refreshing to see that Anthem Off-Road has taken a step back and created a more closed-off wheel that still maintains that same aggressive styling that the off-road market demands. The Anthem Off-Road Viper is among one of the most versatile and aggressive designs to be released all year.
Anthem Off-Road Viper Specs
Diameter: 17, 18, 20 inches
Width: 8.5, 9, 10 inches
Finishes: Satin, Gloss Black