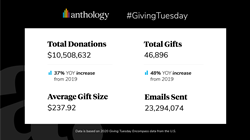 "Seeing the generosity benefiting our institutional partners this #GivingTuesday has been truly gratifying," said Jim Milton, CEO of Anthology. "We're proud that our Encompass platform could play an integral role in supporting campus communities through these difficult times and into the future."
BOCA RATON, Fla. (PRWEB) December 07, 2020
Anthology, a leading provider of proven higher education solutions, announced that its customers using the Encompass platform raised over $10.5 million this past #GivingTuesday – a 37 percent increase from the previous year. Rather than an increase in the value of each donation, the upswing came in the form of more individuals choosing to donate.
Although the average gift size took a slight dip, Anthology's Encompass product processed nearly 47,000 donations this past Tuesday, December 1, beating prior year records by 7 p.m. EST. There was a 48 percent increase in total transactions by the end of the 24-hour period.
It is possible the results were bolstered, rather than hindered, by the ongoing global pandemic and the profound effect it has had on our nation's students. According to the Alumni Engagement Survey the company conducted earlier this year, over a third of respondents indicated that they were still interested in supporting their respective university, despite the high percentage of reported job furloughs and lay-offs. Of particular interest to donors was contributing to student emergency funds.
"Seeing the wave of generosity benefiting our institutional partners this #GivingTuesday has been truly gratifying," said Jim Milton, CEO of Anthology. "We're proud that our Encompass platform could play such an integral role in supporting students and campus communities through these difficult times and continuing into the future."
Anthology's #GivingTuesday U.S. customer initiatives by the numbers:

$10,508,632 in total donations, a 37% increase over 2019
46,896 total gifts, a 48% increase over 2019
Average online gift of $237.92 (down from $242.40 in 2019)
23,294,074 emails sent, a 9.65% increase over 2019
23 institutions raised more than $100,000
With robust analytics being made available in real time, Anthology customers were encouraged to create engaging and interactive donation webpages and follow up with potential donors. Institutions also utilized the Encompass email marketing tools to simplify the donation process by personalizing online experiences and auto-populating information, thereby removing roadblocks that typically prevent potential donors from completing a gift.
Established in 2012, #GivingTuesday was created as a way of linking individuals in a bid to strengthen communities and encourage giving. Over the past eight years, it has grown into a global movement that has inspired hundreds of millions of people all over the world to give, collaborate, and celebrate generosity. In addition to the many millions of dollars that have been raised online to benefit a broad range of organizations, #GivingTuesday also encourages volunteering, donations of food and clothing, and other acts of kindness.
For more details about the #GivingTuesday movement, visit http://www.givingtuesday.org or follow @GivingTuesday and the #GivingTuesday hashtag on social media.
About the Analysis
This analysis includes all U.S. clients that collected donations using Anthology's Encompass technology between 12:00 a.m. and 11:59 p.m. EST on December 1, 2020.
### 
About Anthology
Campus Labs, Campus Management and iModules have joined together to form Anthology. We exist to help higher education advance and thrive. Through a connected data experience that offers a holistic view, creates efficiencies, and provides intelligence, Anthology inspires constituents to reach their full potential using technology insights in admission and enrollment management; student success and retention; institutional and learning effectiveness; alumni and advancement; and enterprise applications and infrastructure. Anthology partners with more than 2,100 colleges and institutions in over 30 countries to address the needs of all constituents in higher education. Visit us at http://www.anthology.com.