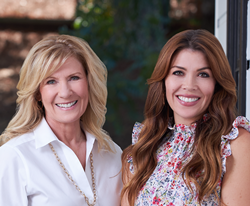 At the heart of every move is an individual and unique story. Anthology Real Estate is a celebration of each client and the story of their journey to success.
MORAGA, Calif. (PRWEB) May 23, 2022
Anthology Real Estate today announced its partnership with Side, the only real estate technology company that exclusively partners with high-performing agents, teams, and independent brokerages to transform them into market-leading boutique brands. The collaboration will ensure that Anthology Real Estate, a company that provides unique service for every client's unique story, is powered by the industry's most advanced platform.
The founders, second- and third-generation Northern Californians Kim McAtee and Megan Deverel, have been a team since 2014. They rank in the top 1% for sales in the East Bay, and their real estate expertise has been sought by outlets such as Wall Street Business Network and KDOW 1220 AM. Deverel counts a master's degree in philosophy among her credentials, along with what she calls a "Ph.D. in real estate," which she earned while logging her first year as a Realtor® in 2007. McAtee's MBA in international business provides a global perspective on business, which complements her real estate skills.
With their 35 years of combined experience and focus on trust and integrity, Anthology is poised to become a leading real estate boutique in the East Bay area. Over those decades, McAtee and Deverel have built innumerable relationships with industry partners: agent and broker colleagues, vendors, service providers, neighbors, and community partners. Buyers and sellers at Anthology Real Estate never have to sacrifice collaboration with other teams, other companies, or other forms of exposure. The firm stands united with the communities it serves as a whole and to its efforts in service of the achievement of all its clients' real estate goals.
"No matter how much time we spend in this industry, we've seen definitively that no two sales will ever be the same," Deverel said. "At the heart of every move is an individual and unique story. Anthology Real Estate is a celebration of each client and the story of their journey to success."
Partnering with Side will ensure Anthology Real Estate remains on the cutting edge of the evolving real estate market while continuing to deliver premium services to its clients. Side works behind the scenes, supporting Anthology Real Estate with a one-of-a-kind brokerage platform that includes proprietary technology, transaction management, branding and marketing services, public relations, legal support, lead generation, vendor management, infrastructure solutions, and more. Additionally, Anthology Real Estate will join an exclusive group of Side partners, tapping into an expansive network from coast to coast.
"Our systems are refined, our resources are robust, our technology top-notch, and our level of integrity — as always — remains unwavering," Deverel said. "Fashioned like a concierge for the agent, Side gives us the respect and support to realize what we know is an effective business model, allowing us to help more clients in an efficient and excellent manner."
About Anthology Real Estate
Anthology Real Estate is a network of like-minded, community-engaged experts ready to serve buyers and sellers throughout the Bay Area. At the heart of Anthology is a mother-daughter partnership of East Bay natives who have a combined 35 years in the real estate industry. Their hand-picked team is composed of Realtor® associates and support staff who are also locals with a bespoke set of skills, industry experience, and corporate professionalism. They provide unique service for your unique story. To learn more, visit http://www.anthologyrealestate.com.
About Side
Side transforms high-performing agents, teams, and independent brokerages into successful businesses and boutique brands that are 100% agent-owned. Side exclusively partners with the best agents, empowering them with proprietary technology and a premier support team so they can be more productive, grow their business, and focus on serving their clients. Side is headquartered in San Francisco. For more information, visit http://www.sideinc.com.