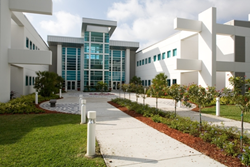 The campus facilities staff and administration are extremely pleased with the results.
PALM BEACH GARDENS, FLORIDA (PRWEB) August 02, 2017
The Palm Beach Gardens campus of Palm Beach State College has gotten brighter with the installation of LED lighting on its well-travelled campus walkway. Lighting levels were unsatisfactory due to failing high intensity discharge (HID) fixtures. "Palm Beach State College places strong importance on providing a dependable, secure campus during all hours of operation, and especially at nighttime," says Gavin Junk, project manager for AG National, who supervised the project. "When the facilities director called, we put together a plan to resolve the issue."
Junk, working with Chief Lighting Application Engineer Jason Ernstam of LED Corporations, faced some interesting hurdles. "They have forty-eight 400W HID fixtures evenly placed throughout the walkway. The ballasts were breaking with greater frequency, and there were dark spaces," says Ernstam. "The light levels weren't great. I am sure it was a concern for students traveling that path at night."
Ernstam and Junk faced several obstacles in creating a solution that would meet required light levels of at least one-foot candle per minimum across the walkway. Furthermore, the work had to be completed during weekends to avoid students, faculty and staff milling around the work site. As safety is always a primary concern, strict safety standards were adhered to during the installation process.
Choosing the proper fixture with considerations to beam angles, light distribution patterns and lumen output was the first step. "It became immediately clear that replacing the forty-eight existing fixtures with LED pole lights alone would not produce the minimum light level required," says Ernstam. By working with photometric data including .IES files and CAD programs, Ernstam determined that eighteen additional pole-mounted fixtures were essential in producing the desired foot-candles and delivering the results Palm Beach State College desired.
"We were replacing decades old 400-watt metal halide fixtures. You can imagine the corrosion and years of dirt and dead bugs," says Ernstam. "We wanted to use a fixture that's built to last. To ensure many years of service and eliminate additional maintenance. We used double-insulated wiring to prevent brittle and cracking insulation. The fixtures, of course, had to have tremendous heat dissipation to protect the circuitry and diodes against the hottest weather. And they had to be easy to install. That's was Junk's requirement," Ernstam muses.
Ernstam recommended an LED Corporations 120-watt LED Street Lights, (part number LC-STR-120W-978). Aside from meeting every requirement, LED Corporations fixtures feature top-quality components, including high output Phillips LumiLED chips, delivering an astounding 130-lumens-per-watt. Each fixture features a highly-efficient multi-voltage Mean Well driver, Type D solid aluminum housing for heat dissipation, and a Type III light distribution pattern. "It's perfect for the application in every way, and comes with a 5-Year Warranty," adds Ernstam.
Once the plans were approved, Junk had to execute the installation within some very tight parameters. Eighteen 7-foot deep holes would need to be dug to accommodate the concrete bases to secure the new 15' poles per wind load requirements. Junk also had to pay particular attention to the existing underground utilities, including gas lines, electric lines, sewer lines, water lines and drainage lines. Safety considerations included employee well being, heat exhaustion awareness, electrical shock, and heavy equipment procedures.
For good measure, Ernstam and Junk replaced seven (7) high intensity discharge (HID) wall packs with new 40-watt and 60-watt LED replacements. The project also required the removal of several walkway bollards that were no longer necessary. By all accounts the results are phenomenal."The campus facilities staff and administration are extremely pleased with the results. It's a stunning transformation, really bright and clean," says Junk. "The project was flawless, on time and within the budget. And best of all, the entire job was completed with ZERO accidents."
While the project has greatly increased light levels, the college stands to cut their energy consumption for the walkway lighting by roughly 50% or more.
AG National Electric is a fully licensed and insured electrical contractor specializing in LED lighting projects. Facing a lighting challenge? Contact AG National Electric at 888-662-2440.
ABOUT AG NATIONAL ELECTRIC, LLC: This full service electrical contracting company & electrician in West Palm Beach ,FL is a subsidiary to Green Energy Advisors, Inc. Formed in July 2015 by President Anthony Florence, specializing in LED lighting retrofits and installations, as well as other electrical projects. With a host of successful projects under its belt, the AG National team enjoys a hard-earned reputation for excellence, with both service and new construction applications. AG National is headquartered in Palm Beach Gardens, Florida.
ABOUT PALM BEACH STATE COLLEGE GARDENS CAMPUS: The Palm Beach Gardens campus Started in 1982 as a permanent, Full Time Center offering Associate in Arts and Associate in Science degrees and Certification programs. Nowadays, the campus provides credit and noncredit classes, programs, and workshops for around 12,000 students every year. The Bioscience Technology Complex started in 2008 homes an expanded science program along with a biotechnology degree program. The campus also includes contemporary multimedia classrooms and labs, a horticultural nursery, community athletic areas, an art gallery and also the 250-seat Alfred W. Meldon Lecture Hall. The 750-seat Eissey Campus Theatre is a cultural hub for northern Palm Beach County, showcasing community educational programs in addition to family entertainment via its favorite "Arts in the Gardens" guest artist show.
ABOUT LED CORPORATIONS: LED Corporations is a full service electrical and LED lighting manufacturer serving the United States for over ten years. Over the years LED Corporations has been the major provider of quality Commercial LED lighting and LED electrical products. We focus on high-efficiency Commercial lighting in addition to LED lighting consulting. Our products include a broad range of LED Lighting to meet any lighting condition with the best quality components available.
LED Corporations is Headquartered in Palm Beach Gardens, FL. For more information see LEDCorporations.com. Contact Public Relations 800-560-7850; info(at)LEDCorporations(dot)com