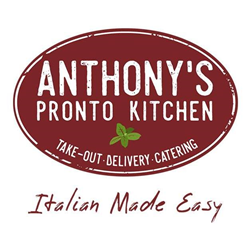 FORT LAUDERDALE, Fla. (PRWEB) February 20, 2019
Anthony Bruno, founder of Anthony's Coal Fired Pizza, Andy's Live Fire Grill and Bar, and Anthony's Runway-84, announces the opening of Anthony's Pronto Kitchen, featuring authentic Italian classics strictly for takeout and delivery. The original founding team from Anthony's Coal Fired Pizza, along with Dan Marino are launching the concept to respond to rising consumer demand for restaurant quality Italian food with the convenience of in-home dining.
Opening in February, Anthony's Pronto Kitchen is centrally located in the heart of Fort Lauderdale in the Victoria Park Shoppes shopping center. Bruno is focused on the family dynamic- no matter how big your family may be- with this new concept. From individual dishes to party platters and full-scale catering, customers can order online or by phone and opt for pick-up or delivery from Anthony's Pronto along with familiar services like Delivery Dudes, DoorDash, GrubHub, and Uber Eats. Bruno asked, "Why shouldn't you be able to enjoy great Italian food with your family or friends right in your own home without the hassle of cooking?" Some of Bruno's favorites on the menu include The Sunday Feast, Roast Chicken Pronto Style, Lasagna Neapolitan, and his signature Meat Balls.
The tag line, "Italian Made Easy," sums up the mission of the concept. Traditional family recipes, top quality, fresh ingredients, and high-end, reusable, earth-conscious packaging, that you can pick-up or have delivered making it easy for busy families and groups to conveniently enjoy their favorite Italian foods. Anthony's Pronto kitchen will offer appetizers, salads, sandwiches, entrees, family-style meals, desserts, party platters, and custom catering delivered to homes and offices in East Fort Lauderdale. Wine and beer are also available. For those living or working outside of the east Fort Lauderdale delivery area, Anthony's Pronto Kitchen encourages take-out.
Hours of operation are Monday through Thursday, 11:00 a.m. until 9:00 p.m., Friday and Saturday 11:00 a.m. – 10:00 p.m., and Sunday 11:00 a.m. – 9:00 p.m. The main telephone number is 954-289-3685. Website coming soon. For media inquiries, please email Mahiza.Moore(at)exults.com.