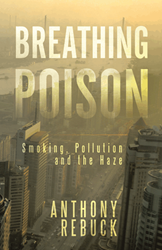 VICTORIA, Australia (PRWEB) May 24, 2016
The New York Times cites that over 100 cities in China China had roughly 30 smoggy days in 2013, which was a 52-year high. Former professor of medicine Anthony Rebuck finds this news troubling. In his new book, "Breathing Poison: Smoking, Pollution and the Haze" (published by Partridge Singapore), he addresses the growing health problems related to the air pollution in Asia, specifically the rise of chronic obstructive pulmonary disease (COPD).
According to Rebuck, "there is a triple threat in the Asian air to human health and well-being." The first is the increase in tobacco-related deaths as the result of the amount of smokers in Asia. Second, the amount of pollution in Asia – among the worst in the world – contributes to the smoggy conditions seen throughout Asia, which increases the amounts of contaminants being breathed in by the population. Third, "slash and burn" land clearing tactics are contributing to cases of bronchitis in the Asian community and what Rebuck refers to as the "haze."
Rebuck's book forecasts devastating effects of air pollution on Asian health unless serious changes are made. He writes that COPD could become the third-highest cause of death in the world. "Breathing Poison" is a lesson to any who fail to see the connection between air quality and public health.
"BREATHING POISON"
By Anthony Rebuck
Hardcover | 5.5 x 8.5in | 168 pages | ISBN 9781482898088
Softcover | 5.5 x 8.5in | 168 pages | ISBN 9781482898071
Available at Amazon and Barnes & Noble
About the Authors
Anthony Rebuck is a former professor at the University of Toronto. He practiced respiratory medicine at the University of Toronto and at the Toronto Lung Clinic before moving to Singapore in 1999. He is the author of "A Doctor's Torah Thoughts From Singapore," "A Sportsman's Guide to the Torah" and "Skippy's Favourite Honey."
Partridge Singapore, an imprint in partnership with Penguin Random House Singapore, aims to help writers in Singapore, Malaysia, and the rest of Southeast Asia become published authors. Partridge Singapore gives authors in the region direct access to a comprehensive range of expert publishing services that meet industry standards but are more accessible to the market. For more information or to publish a book, visit partridgepublishing.com/singapore or call 800 101 2657 (Singapore) or 1 800 81 7340 (Malaysia). For the latest, follow @PartridgeSG on Twitter.