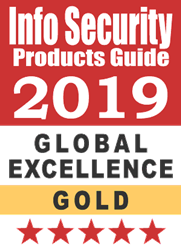 "As the email threat landscape continues to evolve and accelerate, we remain committed to alleviating the burdens on SOC and IT security teams by empowering them to more efficiently classify and eradicate phishing attacks."
TEL AVIV, Israel (PRWEB) February 08, 2019
IRONSCALES, the world's first automated phishing prevention, detection and response platform, today announced that it has won Gold for automation in email security at the 15th Annual 2019 Info Security Product Guide's Global Excellence Awards®. The leader in anti-phishing technology was also awarded for Innovation in Next Generation Security (Themis v1.0) and for its automated & collective phishing campaign detection (Federation). Previous winners across these three categories include D3 Security, Barracuda Networks and Verint Systems. The highly-selective Info Security Product Guide Excellence Awards recognize global cybersecurity and information technology vendors with advanced, ground-breaking products, solutions, and services that are helping set the bar higher for others in all areas of security and technologies.
"We are honored to be recognized for our automation and AI solutions by such a credible third-party at a time when virtually every email security company is making claims of automation and intelligence being inherent to their products or services," said Eyal Benishti, CEO and founder of IRONSCALES. "As the email threat landscape continues to evolve and accelerate, we remain committed to alleviating the burdens on SOC and IT security teams by empowering them to more efficiently classify and eradicate phishing attacks."
Using automation, AI & machine learning in the mailbox
IRONSCALES' multi-layered advanced phishing threat protection platform combines technical controls to block as many phishing attacks as possible and end-user controls to help users detect more sophisticated attacks at the mailbox-level, while incorporating employees as part of the defense strategy to detect what is missed by technology. The platform uniquely combines human intelligence with machine learning and AI to automatically prevent, detect and respond to advanced email threats, so if one control fails, there are others to compensate while maintaining an adaptive security architecture. The platform also decentralizes intelligence by anonymously leveraging and sharing intelligence from other certified analysts within the IRONSCALES global community in order to close down faster on emerging phishing campaigns, preventing other companies from being attacked by the same attack.
These awards continue a trend of honors for IRONSCALES that began two years ago. In 2018, the company was named the Most Innovative Anti-Phishing Solution by Cyber Defense Magazine and Enterprise Email Security Solution of the Year by the Cybersecurity Breakthrough Awards. The platform was also awarded the Technology Innovation Award by Frost & Sullivan and named as a finalist for SC Magazine's Best Emerging Technology.
For more information on IRONSCALES, visit http://www.ironscales.com. To learn more about how IRONSCALES reduces the risk of phishing attacks, download its newest whitepaper at https://ironscales.com/resources/white-papers/aberdeen/.
About IRONSCALES
IRONSCALES is the leader in advanced phishing threat protection, combining human intelligence with machine learning to automatically prevent, detect and respond to advanced email phishing threats. By combining technical and end-user controls into one integrated, automated & multi-layered platform, IRONSCALES drastically reduces the workload burden of SOC and security teams while expediting the time from phishing attack discovery to enterprise-wide remediation from hours, weeks or months to just seconds. Headquartered in Tel Aviv, IRONSCALES was incubated at the 8200 EISP, the top program for cybersecurity ventures, founded by alumni of the Israel Defense Forces' elite Intelligence Technology unit.
About Info Security PG's Global Excellence Awards
Info Security Products Guide sponsors the Global Excellence Awards and plays a vital role in keeping end-users informed of the choices they can make when it comes to protecting their digital resources and assets. It is written expressly for those who are adamant on staying informed of security threats and the preventive measure they can take. You will discover a wealth of information in this guide including tomorrow's technology today, best deployment scenarios, people and technologies shaping cyber security and industry predictions & directions that facilitate in making the most pertinent security decisions. Visit http://www.infosecurityproductsguide.com for the complete list of winners.