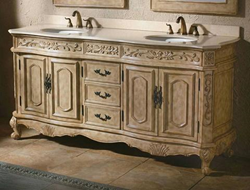 Even subtle differences in color or consistency of the finish can have a huge impact on the final overall appearance of the vanity.
(PRWEB) September 03, 2013
HomeThangs.com, the online home improvement store, has made their goal to deliver the right product to the consumer. With that in mind, shopping and home design tips, as well as special product selections are being introduced.
Ornate antique white bathroom vanities are one of the most popular styles of bathroom vanities out there. But while the phrase may seem simple, all the vanities in this style are by no means the identical – and not just in size or shape, either. The level of detailing, the color, and even the type of legs or hardware can all vary from one model to another, meaning there's a huge variety of styles to choose from, even in this one rather specific category. HomeThangs.com has introduced a guide to a few of the key features and differences to look for.
Probably the biggest way these types of vanities differ is in color. Even subtle differences in color can have a huge impact on the final overall appearance of the vanity. A pure, pristine white has a bright, clean appearance that can lend a slightly feminine touch to a bathroom, while a darker parchment white produces a more authentically antique vanity that can hold up well to a very traditional bathroom style.
Similar, ornate antique white bathroom vanities come in a whole variety of different finishes. They can be solid and smoothly painted, heavily weathered, or anywhere in between. A solid finish, regardless of the color, is probably the easiest to pull off, as even a light wear-through or chipped vanity can look a little dingy in a room that doesn't have ample light. But aesthetically aged vanities – like ones finished with crackle paint or simply darkened around the crevices of the woodwork can create a beautiful impression of age that will lend the sophistication of antiques to a bathroom decor.
Many ornate bathroom vanities feature Queen Anne legs, and white vanities are no exception. But even here there's a decent amount of variation between designs in the size and shape of the legs as well as the type and level of detail. Taller legs can give a vanity a sleek, delicate appearance that's daintier than the more traditional Queen Anne legs. That said, even petite feet lift the vanity off the floor, making it look more like furniture than a permanent, built-in cabinet, which is perfect for a Victorian style or other traditional bathroom decor.
If there's usually some similarity in the style of legs on antique bathroom vanities, there's a whole huge variety of types, quantities, and styles of woodwork otherwise. This is a feature that's simultaneously pretty obvious at a glance and a little deceptive. While it's easy to see how much or how little woodwork a vanity has, it isn't always obvious how that detailing is done. Hand carved (or at least hand finished) pieces are a little rarer as they require a more hands on construction process, but are often more uniquely and intricately detailed than the more-common machine carved vanities.
Ornate antique bathroom vanities typically have woodwork in one of four places: the crown, the base, the legs, and the corners. Occasionally there will be detailing on the doors and drawers as well, but usually this is in the form of layered panels rather than the floral or seashell detailing that practically defines the style. Designs range everywhere from a simple laurel carved on the panel above the doors to amazingly detailed, beautiful touches like stylized columns, intricate leaves, shells, and flowers, and even more intricately detailed panel work, not just on the doors but on the sides of the vanity as well. As a rule of thumb, the more detailing a vanity has the more traditional the style will be, while simpler designs will have a more relaxed, contemporary feel.
Given a choice between two very similar vanities, what other features the vanity includes should be a deciding factor. Some vanities will include a vanity top, sink, or even faucets, and many come paired with mirrors or matching storage cabinets. The last two can be especially useful in keeping woodwork coordinated, as it varies subtly from vanity to vanity. Antique vanities are available in all variety of sizes, from compact single basin vanities to huge, sprawling double cabinets, but some are also available in different sizes in the same style, which makes it possible to get the same look in more than one bathroom.
To see more of these beautiful vanities, check out the gallery in the full article here.
HomeThangs.com is not only a home improvement superstore, it also provides expert design tips and a comprehensive shopping guide, taking the ideas from professional interior designers, and offering tips to the consumers on how to pick the products to best suit their needs.