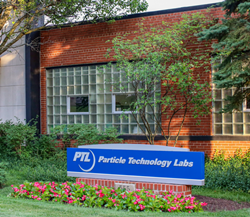 "One of our primary goals is to offer our clients diversity in instrument manufacturers in order to meet their testing needs. Adding Anton Paar to our manufacturer offerings continues to work toward this goal." - William Kopesky, Director of Analytical Services at Particle Technology Labs
DOWNERS GROVE, Ill. (PRWEB) September 09, 2020
Anton Paar, the world's premier manufacturer of analytical instrumentation in the field of particle and porous material characterization, has announced a testing services collaboration with Particle Technology Laboratories (PTL), a leading particle characterization testing and advisory services provider.
Through this partnership, PTL in Downers Grove, Illinois will offer premium sample testing services with its newly-equipped suite of Anton Paar instrumentation. Customers will gain streamlined access to Anton Paar's unmatched porous materials and powder testing capabilities, while PTL's high standards of compliance, data integrity, and unbiased testing will ensure complete accuracy and reliable results.
Georg Cortolezis-Supp, CEO at Anton Paar QuantaTec, underlined the significance of the partnership: "PTL's dedication to independent, accurate, and bias-free particle analysis testing makes them a natural fit for us as a partner," he said. "With this collaboration, Anton Paar can continue to take forward what it does best: develop, manufacture and support the best particle and porous materials characterization instrumentation."
William Kopesky, Director of Analytical Services at Particle Technology Labs further added: "One of our primary goals is to offer our clients diversity in instrument manufacturers in order to meet their testing needs. Adding Anton Paar to our manufacturer offerings continues to work toward this goal. With almost 30 years of experience in the independent particle characterization testing field, we can readily incorporate Anton Paar's instrumentation into our laboratory. At the same time, we have allocated resources to successfully manage the increased contract client testing base we will now serve. We will also be able to offer ISO and cGMP compliant results to those clients which require it. We are excited to work with Anton Paar and appreciate the trust they have shown through this collaboration."
The partnership's testing services will be fully-operational beginning September 1, 2020, with cGMP compliance for applicable instrumentation following later this year. The scope of the collaboration will soon grow to include jointly-hosted seminars and workshops, as well as co-authored technical white papers. Capabilities offered by Anton Paar's instrumentation suite at PTL will include physisorption, chemisorption, vapor sorption, solid density analysis, and pore size analysis.
To learn more about Anton Paar, visit http://www.anton-paar.com or contact Jeff Linka at jeff.linka@anton-paar.com. To learn more about PTL, visit http://www.particletechlabs.com or contact Aubrey Montana at amontana@particletechlabs.com.
About Anton Paar:
Anton Paar is the world's premier manufacturer of measuring and analytical instrumentation used for both research and development and quality control. Founded in 1922, Anton Paar now has subsidiaries in 32 different countries across the world. Anton Paar GmbH is owned by the charitable Santner Foundation.
In February, 2018 Anton Paar acquired Quantachrome Instruments, a global leader in material characterization instrumentation for the analysis of porous materials and powders. Under the umbrella of the Anton Paar Group, the company continues its operations in Boynton Beach, Florida as Anton Paar QuantaTec, Inc.
Anton Paar USA, Inc. is the sales and service subsidiary of Anton Paar, serving customers across the United States. Since the 2018, Anton Paar USA has expanded its operations to include four regional offices, with full sales and laboratory operations in Torrance, California, Houston, Texas, and Chicago, Illinois, while the main Anton Paar USA headquarters remains in Ashland, Virginia.
About PTL:
Particle Technology Labs had been the world's leading particle characterization testing company since 1992. PTL works with major organizations around the globe across both the public and private sectors. PTL's unique scope and expansive knowledge of particle technology enables them to provide independent insight and perspective necessary for their clients to make informed decisions. PTL is registered with the FDA, cGMP as well as ISO 17025:2017 compliant. PTL holds a DEA and ATF license to handle controlled substances and pyrotechnics. They are located in Downers Grove, IL USA.