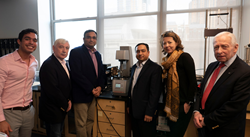 "Industry-university partnerships are immensely important to accelerate transition of laboratory-scale discoveries to industry practice" - Dr. Nikhil Gupta, New York University & 2020 Brimacombe Medalist Award recipient
ASHLAND, Va. (PRWEB) September 02, 2020
Anton Paar USA is proud to announce a multi-year collaboration with award-winning professor, Dr. Nikhil Gupta from New York University (NYU). For at least three years, Dr. Gupta and his research team at NYU will use Anton Paar's high-end dynamic mechanical analysis (DMA) device, the MCR 702 MultiDrive™ as part of a loan agreement.
Dr. Gupta is a recent recipient of the Brimacombe Medalist Award, awarded by The Minerals, Metals & Materials Society to recognize individuals with sustained excellence and achievement in business, technology, education, public policy, or science.
For Anton Paar USA, collaborating with Dr. Gupta represents an exciting opportunity to work with an innovative researcher who continues to push forward with new applications for research-quality DMA instrumentation. Abhishek Shetty, Lead Rheology Scientist for Anton Paar USA, notes Dr. Gupta as a professor and researcher who "thinks outside the box to do work that is not only highly-relevant for academic researchers, but also for premier research and development teams at some of the leading companies in the world."
Dr. Gupta also noted the importance of keeping industrial use in sight, noting that the partnership with Anton Paar "will ensure that research always has industrial relevance."
"Industry-university partnerships are immensely important to accelerate transition of laboratory-scale discoveries to industry practice," Dr. Gupta continued.
Apart from the shared passion for linking premier-level academic research to industry, the collaboration is also driven by the fact that Anton Paar's MCR 702 MultiDrive™ DMA system features the necessary capabilities for cutting-edge research. The instrument allows for maximum flexibility to characterize different types of samples ranging from liquids to stiff materials. This flexibility combined with uncompromising measurement precision makes the MCR 702 MultiDrive™ the ideal solution for Dr. Gupta and his team.
Dr. Gupta and his team has exciting plans for using the instrument. His team was recently awarded a patent for a fundamental advancement in the method of processing data obtained from DMA. The method allows for converting viscoeleastic properties to elastic properties. Says Dr. Gupta: "We will now take a step back and look into theories used in obtaining the data from such measurements and possibly develop new governing equations."
This is in addition to the standard focuses of Dr. Gupta's research, current projects related to developing new security methods for 3D printing, developing filaments of advanced composites, and using machine learning methods for materials characterization.
To learn more about the collaboration, Anton Paar, or the MCR 702 MultiDrive™, contact Jeff Linka at jeff.linka@anton-paar.com or 804.550.1051.
About Anton Paar USA
Anton Paar USA is a subsidiary of the Graz, Austria-based Anton Paar. Anton Paar is the world's premier manufacturer of measuring and analytical instrumentation used by laboratories and manufacturers during both research and development and quality control. Founded in 1922, Anton Paar now has subsidiaries in 31 different countries across the world.
Since the beginning of 2018, Anton Paar USA has expanded its USA operations to include four regional offices, with full sales and laboratory operations now taking place in Torrance, California, Houston, Texas, and Chicago, Illinois, while the main Anton Paar USA headquarters remains in Ashland, Virginia.