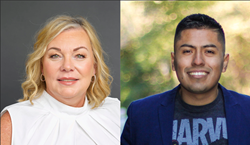 This enhanced service offering will give Antonio & Paris a distinct marketplace position as a boutique brand innovation network, further enabling us to lead brands into the future
MIAMI (PRWEB) August 07, 2020
Antonio & Paris, a brand innovation and design studio, has launched a digital experience studio, Digital Caliente, and has tapped a global digital marketer, Jose Quiroz, to lead the charge as Managing Director. Paris Hinson-Buchanan has been named CEO to the new unit and will continue to oversee creative duties as Chief Creative Officer of both companies. The Miami-based agency will become part of A&P boosting its capabilities as a digital branding shop able to design, build, and run customer experiences that grow brands and businesses.
Mr. Quiroz has been working with established companies who want to leverage online channels, technology, and digital media to build intimate connections with their consumers in order to generate more revenue online.
He and his team will have helped major brands such as AT&T, Barco (Cinionic), The Franklin Institute, Thermo Fisher, and Shoe Palace create and optimize their content management as well as e-commerce experience while engaging core consumers via Text, Social Media, Influencer Marketing, and other digital channels. These digital strategies helped increase e-commerce revenue by 203% over the last year.
"Jose's core strength comes in the psychological understanding of the target consumer and their overall digital journey. He has a deep understanding of the ideal global customer and strategically finding the incredible ideas and technology to engage them," said Paris Hinson-Buchanan, CEO and Chief Creative Officer of A&P/Digital Caliente.
Antonio Patric Buchanan, CEO of Antonio & Paris added: "This enhanced service offering will give Antonio & Paris a distinct marketplace position as a boutique brand innovation network, further enabling us to lead brands into the future with the addition of Digital Caliente and our research and data analytics arm, Bokoo."
Today's news represents an evolution in A&P's journey to build a new, future-forward and nimble agency network — one with the power to engineer transformative brand experiences and infuse those experiences with the humanity and inspirational power of brand thinking and creativity.
About Antonio & Paris
Antonio and Paris (A&P), a brand innovation and design network, excels in finding innovative ways for clients to provide exceptional experiences to their customers. Their work includes consumer insight, brand innovation, creative development, mobile and technology solutions for global brands such as AT&T, MINI USA, The Franklin Institute, Newell Rubbermaid, Tenet Healthcare, Cinionic, and Thermo Fisher. For more information about Antonio & Paris, visit them on Facebook, Twitter or antonioandparis.com.
About Digital Caliente
Digital Caliente (DC) is a digital experience studio that provides clients such as AT&T, The Franklin Institute, Thermo Fisher and Shoe Palace with strategy, creative, technology and data solutions to engineer transformative brand experiences and infuse those experiences with the humanity and inspirational power of brand thinking and creativity. For more information visit http://digitalcaliente.com/ or email hello@digitalcaliente.com