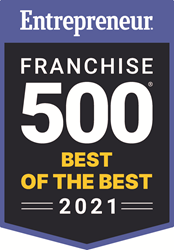 This award validates the strength of our business model as a successful business opportunity in the retail healthcare field.
ALPHARETTA, Ga. (PRWEB) May 25, 2021
Any Lab Test Now is honored to be named to Entrepreneur's 2021 Best Of The Best Franchises award. To receive this prestigious recognition, the franchise must be listed on Entrepreneur's Franchise 500 list and be first in their industry category.
Since 2007, Any Lab Test Now has partnered with major, high-quality laboratories throughout the U.S. to provide affordable and comprehensive lab testing services directly to the public. These lab testing services are offered in a diverse variety of categories that most commonly include clinical, DNA, and drug & alcohol testing. With over 190+ locations, Any Lab Test Now is the largest lab testing franchise in the U.S. and operates as a retail storefront, offering consumers an empowering value proposition — the ability to take control of their health and wellness choices.
"This is a proud moment for our entire team and family of franchisees to be ranked #1 in our industry category, Laboratory Services," says Clarissa Bradstock, CEO of Any Lab Test Now. "Our franchisees continue to empower and support local communities nationwide with direct access to lab services and maintained our role as an essential business throughout 2020. This award validates the strength of our business model as a successful business opportunity in the retail healthcare field."
Any Lab Test Now initially ranked in the highly competitive Franchise 500 list this year, which evaluated franchises on more than 150 data points in the areas of costs and fees, size and growth, franchisee support, brand strength, and financial strength and stability.
Terri McCulloch, VP of Business Development, shares "We find it exhilarating to be at the center of healthcare consumerism, providing direct access to lab testing services where we offer significant value to local communities, individual consumers, and businesses. This esteemed award is a very special recognition and shines a light on the challenging work our franchisees committed themselves to in making lab testing easily accessible throughout the pandemic. We're excited to share this accomplishment with our franchisees who are a much-needed health care resource to their local consumer base."
The Best of the Best 2021 award means Any Lab Test Now is honored with being #1 in their industry category and further validates their successful direct-to-consumer lab testing business model.
About Any Lab Test Now
Founded in 1992, Any Lab Test Now is a franchise direct access lab testing company that provides thousands of standard lab tests to consumers and businesses in a professional, convenient, and cost-effective, transparent manner. With more than 190 facilities around the U.S., Any Lab Test Now offers a variety of affordable and confidential lab tests to consumers and businesses including general health and wellness panels, pregnancy, HIV/STD, drug, paternity and many more tests. To learn more about Any Lab Test Now, visit http://www.anylabtestnow.com or like us on Facebook, http://www.facebook.com/anylabtestnowcorp.
About Entrepreneur Franchise Resources
Entrepreneur is an American Magazine, first published in 1977, by Entrepreneur Media Inc. headquartered in Irvine, California. They offer a wealth of information on their website including, news related to entrepreneurship, small business management and general business. Since 1979 Entrepreneur has published a Franchise 500 list each year to highlight the most prominent American franchising companies.
Media Contacts:
Terri L. McCulloch
Vice President, Business Development
ANY LAB TEST NOW
Phone: 832-655-3608
tmcculloch@anylabtestnow.com