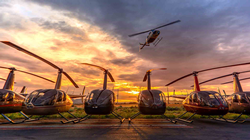 LONDON (PRWEB) February 28, 2020
Cardiff based hire & rental industry giants Anything for Hire have added another string to their bow with the acquisition of the sought-after helicopterhire.com domain name - and look set to take yet another market by storm.
Since their launch in 2018, the team at Anything for Hire has been going from strength to strength, disrupting the hire industry with their innovative approach to booking services up and down the country. And now, they've set their sights on helicopter hire, aiming to dominate the industry and transform the product from a niche interest into one with mainstream appeal.
Through this new domain, customers will be able to charter helicopters for special occasions such as weddings and school proms as well as book corporate hire packages and more. And luckily, they'll find themselves in good hands. Today, Anything for Hire is a market leader across a broad spectrum of hire industries, including prestige transport as well as a number of specialist areas such as coach and minibus hire.
Interestingly, it's not the first time that Anything for Hire has hit the headlines. In fact, the start-up was named one of 30 Welsh firms set to make it big by Wales Online in 2018, as well as being pegged as among of the nation's Top Tech Talent later that same year.
Now, the team at Anything for Hire is bringing over 75 years' of combined experience in the hire industry to the world of helicopter charters. And having acquired helicopterhire.com for an undisclosed amount, it looks like they're on track to become the go-to name for this thrilling method of travel across the UK.
About the Company:
Anything for Hire is a leading price comparison site that enables customers to find the best deals in any type of hire services. The company covers hire services ranging from bouncy castles to mobile bars, wedding car hire and more. Through an innovative and unique tech-approach, Anything for Hire offers an optimum level of services to the customers. Being a market leader in the industry, the company makes finding the right hire service easier and simpler.
Media Contact:
Name: Anything for Hire
Email: pr@anythingforhire.com
Website: https://anythingforhire.com/