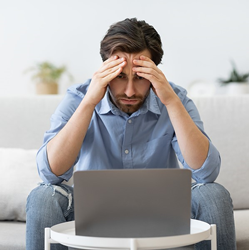 Cybersecurity experts have already detected millions of exploit attempts and they warn that the problems have just begun.
HOBOKEN, N.J. (PRWEB) December 17, 2021
A NYC area cybersecurity expert identifies the cyber risks posed by the Apache Log4j vulnerability and what to do about it in a new article on the eMazzanti Technologies website. The informative article first explains why the Log4j vulnerability is so dangerous.
The author then urges readers to take action to prevent unauthorized access by cyber-criminals, including steps to apply patches quickly and address the supply chain. He states that patches alone will not guarantee safety from hackers exploiting the Log4j vulnerability. He says that organizations should constantly monitor their networks for suspicious activity and implement cybersecurity best practices.
"Cybersecurity experts have already detected millions of exploit attempts and they warn that the problems have just begun," stated Jennifer Mazzanti, CEO, eMazzanti Technologies.
Below are a few excerpts from the article, "Apache Log4j Vulnerability – Why It's Dangerous and How to Prevent a Breach."
Why is the Log4j Vulnerability So Dangerous?
"The Log4j vulnerability presents a significant danger for several reasons. In the first place, developers around the world use Java. Consequently, the flaw affects millions of applications and services, thus putting millions of organizations at risk. Essentially, any application or service that connects to the internet represents a potential attack point."
"Microsoft reported that state-sponsored groups from Iran, China, Turkey, and North Korea have begun exploiting the flaw. Soon, these groups are likely to use the access to initiate ransomware and other malicious attacks. In fact, Bitdefender reported evidence of hackers already trying to deploy the Khonsari ransomware."
Apply Patches Quickly
"The first step in mitigating the Log4j vulnerability involves patching. Apache released an initial security patch for Log4j on December 10 (version 2.15.0). When they discovered a second vulnerability days later, they released a second patch (version 2.16.0). Developers must upgrade to 2.16.0 as soon as possible."
Monitor for Suspicious Activity
"Organizations should take a conservative approach and constantly monitor their networks for any suspicious behavior. A reputable security provider will offer monitoring tools that provide 24/7 threat detection to proactively detect potential problems."
Implement Cybersecurity Best Practices
Investing in cybersecurity and consistently following information security best practices will help organizations protect critical data assets. These best practices include firewalls and antivirus tools, regular security audits, cybersecurity training for employees, endpoint security, encryption and more.
The cybersecurity experts at eMazzanti help concerned business leaders assess their current security position and design a comprehensive strategy to keep the organization safe moving forward.
Have you read?
4 Network Update Best Practices to Avoid Downtime and Disruption
2021 Cyber Attacks – 7 Lessons to Apply for a More Secure 2022
About eMazzanti Technologies
eMazzanti's team of trained, certified IT experts rapidly deliver increased revenue growth, data security and productivity for clients ranging from law firms to high-end global retailers, expertly providing advanced retail and payment technology, digital marketing services, cloud and mobile solutions, multi-site implementations, 24×7 outsourced network management, remote monitoring, and support.
eMazzanti has made the Inc. 5000 list 9X, is a 4X Microsoft Partner of the Year, the #1 ranked NYC area MSP, NJ Business of the Year and 5X WatchGuard Partner of the Year! Contact: 1-866-362-9926, info@emazzanti.net or http://www.emazzanti.net Twitter: @emazzanti Facebook: Facebook.com/emazzantitechnologies.