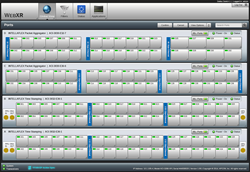 WebXR has an intuitive design, and a point and click web GUI to simplify use, increase network operations efficiencies and help enterprises get more out of their network monitoring tools.
Wilsonville, OR (PRWEB) May 16, 2014
APCON, the most comprehensive intelligent network monitoring solution for Fortune 1000 companies and service providers, will introduce its new WebXR switch management software at Cisco Live US, May 18 – 22 in San Francisco. APCON will host WebXR demonstrations at booth 516 throughout the event.
APCON's WebXR is a fifth-generation embedded switch management software that builds upon its industry-leading WebX monitoring software. WebXR simplifies configuration management and addresses the complexities of large-scale network monitoring deployments.
"With a growing requirement for enterprise data center monitoring capacity, we've developed WebXR to meet the demands of large-scale network monitoring switches deployed with high port densities," said Richard Rauch, president and CEO of APCON. "WebXR has an intuitive design, and a point and click web GUI to simplify use, increase network operations efficiencies and help enterprises get more out of their network monitoring tools."
WebXR enables network professionals to build, view, save, recall and share diagram connections between SPANs/TAPs and monitoring tools. New functionalities include:

Streamlined clicks by over 50% for the highest used capabilities
Quicker port review and assignment
Consolidated screens and simplified layout
Enhanced graphical and visual representation of network status.
WebXR follows the launch of APCON's IntellaFlex 3288-XR in March 2014. Combined this solution offers non-blocking, high-bandwidth connectivity for reliable and consistent access to traffic visibility.
APCON Products on Display at Cisco Live US
In addition to its WebXR switch management software, APCON will display the following products:
IntellaFlex 3288-XR network monitoring switch - A high-capacity, high-availability, non-blocking switch designed for large data centers.
IntellaFlex Multi Function Blade - With sub 10nS precision, this supports the most accurate timing sources in the industry and provides the highest port density for time stamping on the market. The blade also offers packet slicing to remove confidential information (e.g. credit card or healthcare information), allowing organizations to meet compliancy regulations. Packet slicing can remove un-wanted payload data, increasing security tool performance. The same blade will offer packet deduplication to eliminate duplicate packets and increase the efficiency of network performance and security tools.
Multi Stage Filtering (MSF) - An industry-unique ingress filtering technique. MSF is managed within a graphical user interface and offers limitless flexibility in filtering rules. Providing pinpoint accuracy, MSF allow users to specify exactly the packets to be delivered through the switching fabric to each egress port on the switch. This eliminates the threat of oversubscribing tool ports and dropped packets, and maximizes switch and tool utilization and efficiency.
TITAN - A single, centralized point of switch management for network monitoring in a multi-switch environment. TITAN can easily help share expensive network performance and security analysis devices throughout the network.
Leading up to Cisco Live US, APCON released a free downloadable eBook titled "The Case for Scalability in Large Enterprise Data Centers" to explain how network architecture, with an emphasis on monitoring, is the first step to achieving scalability.
Media representatives wishing to schedule an APCON product demonstration at Cisco Live US can contact the APCON public relations team at 469-291-6902.
About APCON
For 20 years, APCON has consistently delivered smart, stable and scalable technology solutions to Fortune 1000 companies, service providers and customers in more than 40 countries seeking total data center visibility and security. APCON's Series 3000 and IntellaFlex blades assure superior network monitoring while supporting traffic analysis and streamlining network management and security. For more information, visit us at http://www.apcon.com or follow us on Twitter @apcon.