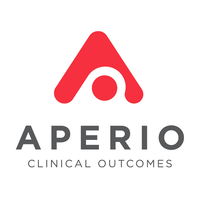 DURHAM, N.C. (PRWEB) January 31, 2019
Aperio Clinical Outcomes, a clinical research organization headquartered in Morrisville, NC, providing full, customizable clinical research services across multiple therapeutic areas, announced an Innovation Partner sponsorship agreement with LaunchBio, Inc. to support educational programs for early stage life science entrepreneurs in the Research Triangle region of North Carolina.
Aperio Clinical Outcomes will be a featured presenter at LaunchBio's popular "Larger Than Life Science" program, a monthly event series open to everyone interested in building a strong support network for North Carolina's biotech and healthcare innovators.
"Aperio Clinical Outcomes is committed to delivering honest and collaborative clinical research services," said Faye Woolf, founder and CEO. "We are entrepreneurs too and understand the importance of building long-term relationships with key strategic partners at every stage of a company's growth. By forming this partnership with LaunchBio, Aperio Clinical Outcomes can offer decades of industry expertise and insight to companies that may just be starting to think about clinical trials, as well as those that are farther along the regulatory pathway. We are excited to introduce ourselves and our valuable network to the next generation of life science innovators in North Carolina."
"LaunchBio is pleased to work with Aperio Clinical Outcomes to develop programs and services for startups and growth-stage companies that are focused on developing novel therapeutics," said Joan Siefert Rose, CEO of LaunchBio. "They bring a unique focus on listening to their clients and providing custom-tailored, cost-effective solutions for clinical research. Aperio Clinical Outcomes' support for our 'Larger Than Life Science' program series demonstrates the company's confidence in the potential for growth that LaunchBio and BioLabs North Carolina represent for our community, as both organizations work to accelerate the commercialization of technologies developed at the area's leading research universities."
BioLabs North Carolina operates a 42,000 square foot state-of-the-art shared laboratory space designed as a launchpad for high-potential life sciences and biotech startups. It is part of a network of biotech innovation hubs, with locations in Cambridge, MA; San Francisco; San Diego; and New York City.
LaunchBio's "Larger Than Life Science" programs are held on the first Thursday of every month in downtown Durham, typically attracting 200-250 attendees. In addition to presenting at the programs, a representative from Aperio Clinical Outcomes will serve on the planning committee.
About Aperio Clinical Outcomes: Aperio Clinical Outcomes provides full, customized clinical research services across multiple therapeutic areas. Dedicated to transparent interactions with clients, Aperio also offers consulting services in Quality Assurance, Strategic Resourcing, and practical application of the latest Clinical Trial Technology.
In an industry flooded with data, metrics and technology, Aperio remains steadfastly focused on the most important part of the process: people. From start-up to close out and every point in between, Aperio works with its partners to deliver outcomes that will improve patient care and save lives. http://www.aperioclinical.com
About LaunchBio: LaunchBio is the national nonprofit organization that provides programming and community connections for the BioLabs network of co-working spaces, including BioLabs North Carolina in downtown Durham. LaunchBio identifies, counsels, and supports high-growth, high-impact life science and biotechnology companies. Its mission is to build an ecosystem of innovation for the benefit of human health and well-being. LaunchBio's impact is measured by its success in connecting entrepreneurs with knowledge, capital and talent – including each other – not only within geographic regions, but across the nation's leading life science hubs. http://www.launchbio.org