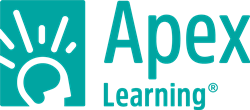 "We are very excited to welcome Will Ethridge to our Board of Directors. His experience and history of success are exemplary, and we look forward to his impact as the reach of our world-class digital curriculum expands to help even more students succeed." - Chris Porter, CEO, Apex Learning
SEATTLE (PRWEB) November 21, 2019
Apex Learning, a recognized leader in online learning for secondary education, announced today that Will Ethridge has joined the company's Board of Directors as Chairman.
"We are very excited to welcome Will Ethridge to our Board of Directors," said Chris Porter, Apex Learning Chief Executive Officer. "His experience and history of success in education are exemplary, and we look forward to his impact as the reach of our world-class digital curriculum expands to help even more students succeed."
Mr. Ethridge has had significant impact as a global leader, board member, and policy advisor in education businesses. He currently serves on the boards of Ruffalo Noel Levitz (Chairman) and Finalsite, and is an angel investor and advisor for several early stage education companies. From 2008 through 2013, he was CEO of Pearson North America and also served on Pearson plc's board of directors. Prior to this, he was CEO of Pearson's Higher Education Division and its International Group. Previously, Mr. Ethridge has also served as Chairman of the Association of American Publishers (AAP) and as a board member of CourseSmart (Chairman), Frontline, Interactive Data Corporation, TurnitIn, and Study Group.
"I am pleased to be joining Apex Learning, a company I've long admired for their quality products and dedication to student success," said Will Ethridge. "Working with Chris and the excellent Apex team, I see many exciting opportunities ahead."
"Will's depth of experience, visionary leadership, reputation, and networks make him an ideal Chairman for Apex Learning," said Andy Kaplan, Managing General Partner of Education Growth Partners, owner of Apex Learning. "We look forward to working together to drive growth while continuing to focus on quality, rigor, and student impact."
About Apex Learning
An industry leader with deep expertise in digital curriculum, Apex Learning works closely with school districts across the country to implement proven solutions that increase on-time graduation rates and create opportunities for student success in school and beyond. The company is driven by the understanding that supporting the needs of all students – from struggling to accelerated – strengthens schools and creates stronger communities, brighter futures and a more equitable world. Apex Learning is accredited by AdvancED and its courses are approved for National Collegiate Athletic Association eligibility. Apex Learning, where opportunity thrives. For more information, visit http://www.apexlearning.com