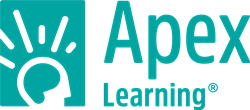 "We selected Apex Learning because they offered the most expansive and flexible digital curriculum that allowed us to scale district-wide, while flexing from online to a hybrid model without sacrificing a disruption in student learning or quality of instruction." - James Butler, TUSD
SEATTLE (PRWEB) January 14, 2021
Apex Learning, a recognized leader in digital curriculum, announced that Apex Learning Courses received the Best of 2020 Tech & Learning Awards. Unlike book-based courses, Apex Learning enables educators to seamlessly navigate between in-class, hybrid and at-home learning models, which has proven to be an imperative as the pandemic has changed requirements for schools on a near weekly basis.
Apex Learning Courses allow students to accelerate achievement through engaging, interactive lessons and prescriptive models that meet students where they are in their learning. Courses align with standards, are customizable, and span a wide range of subjects, including core, electives, foundational, AP, and honors for middle and high school students. Apex Learning curriculum features rigor and supports through extensive scaffolding and embedded learning tools that prepare all students to succeed and thrive.
"Our mission is to ensure that every student receives an engaging, rigorous and comprehensive education, and we were looking for a partner with expertise in online learning," said James Butler, Senior Director, Instructional Technology & Online Education for Tucson Unified School District. "We selected Apex Learning because they offered the most expansive and flexible digital curriculum that allowed us to scale district-wide, while flexing from online to a hybrid model without sacrificing a disruption in student learning or quality of instruction."
Many districts partner with Apex Learning as their district-wide curriculum provider for their online, hybrid, and in-school learning , reducing confusion and stress for educators and students by providing a single solution for learning and communication. Using data-driven dashboards, educators have the visibility they need to evaluate student progress and needs, regardless of whether the students are sitting in class or working remotely from home.
"This recognition of Apex Learning acknowledges our expertise in developing, deploying, and supporting successful digital learning models for more than 20 years," said Chris Porter, CEO, Apex Learning. "Our digital suite of curriculum is proven to impact the things that matter most: increased student achievement, increased graduation rates, and more students who are college and career ready."
About Apex Learning
An industry leader with deep expertise in digital curriculum, Apex Learning works closely with school districts across the country to implement proven solutions that increase on-time graduation rates and create opportunities for student success in school and beyond. The company is driven by the understanding that supporting the needs of all students – from struggling to accelerated – strengthens schools and creates stronger communities, brighter futures and a more equitable world. Apex Learning is accredited by Cognia and its courses are approved for National Collegiate Athletic Association eligibility. Apex Learning, where opportunity thrives. For more information, visit http://www.ApexLearning.com.