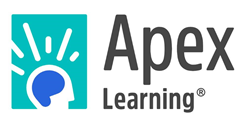 "There are some good self-paced learning solutions out there, but Apex Learning Tutorials, with its highly intuitive interface, nonjudgmental and straightforward approach is, quite simply, one of the very best."
SEATTLE (PRWEB) January 22, 2019
Apex Learning, a recognized pioneer in online learning for secondary education, was recognized by leading education organizations for innovation in 2018. The company announced a complete new digital curriculum in math, science, English and social studies for middle school students, new Career and Technical Education (CTE) courses that expand the programs of study available and most recently, new project-based technology courses that range from coding and design to gaming and animation.
"For more than twenty years, Apex Learning has partnered with school districts nationwide to implement digital learning programs to keep secondary students on track for graduation," said Cheryl Vedoe, CEO, Apex Learning. "It's an honor to see our innovation recognized by these prestigious organizations as we continue to develop new solutions to expand education opportunities for students and increase academic performance across the nation."
Apex Learning was recognized in 2018 by seasoned educators, basing their input on criteria such as innovation, academic excellence and effectiveness. According to the ComputED Gazette judges, "there are some good self-paced learning solutions out there, but Apex Learning Tutorials, with its highly intuitive interface, nonjudgmental and straightforward approach is, quite simply, one of the very best."
Please see the full award and recognition list below:
2018 ComputED BESSIES (Best Educational Software Awards):

Apex Learning Middle School Courses
Apex Learning New Generation Courses
Apex Learning CTE Complete Courses of Study
2018 ComputED EDDIES (Education Software Review Awards):

Apex Learning High School Tutorials
Apex Learning Educator Academy
About Apex Learning
Schools and districts nationwide implement Apex Learning digital curriculum to personalize the learning experience and support success for all students-from those who are struggling to those capable of accelerating. Proven to increase outcomes, Apex Learning digital curriculum actively engages students in learning, with embedded supports and scaffolds to meet the needs of diverse learners. During the most recent school year, there were more than 3.6 million enrollments in Apex Learning digital curriculum. Headquartered in Seattle, Apex Learning is accredited by AdvancEd and its courses are approved for National Collegiate Athletic Association eligibility. For more information, visit http://www.apexlearning.com/contact or call 1.800.453.1454.