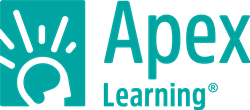 "We partner with vendors who understand the importance of providing a rigorous and relevant opportunity for teaching and learning in the digital age. Our partners, like Apex Learning, listen to our story and help us build an ecosystem of support for our students and educators." - James Butler, TUSD
SEATTLE (PRWEB) March 08, 2021
Apex Learning, a recognized leader in digital curriculum, announced that Apex Learning Districtwide Digital Curriculum received the 2021 Best Remote & Blended Learning Tools award. Apex Learning enables educators to seamlessly navigate between in-class, hybrid and at-home learning models, providing districts with the flexibility they need to keep all students learning.
Many districts have partnered with Apex Learning as their districtwide curriculum provider, reducing confusion and stress for educators and students by providing a single solution for learning. Using data-driven dashboards, educators have the visibility they need to evaluate student progress and needs, regardless of whether the students are sitting in class or working remotely from home.
"We have to get this right for our students and our families," said James Butler, Senior Director, Instructional Technology and Online Education for Tucson Unified School District. "To do that, we take great pride in making sure that we partner with vendors who understand the importance of providing a quality, rigorous and relevant opportunity for teaching and learning in the digital age. Our partners, like Apex Learning, listen to our story to make sure that we build an ecosystem of support for our students and our educators."
Apex Learning Courses are available for middle and high school students, allowing them to accelerate achievement through engaging, interactive lessons and prescriptive models that meet students where they are in their learning. Courses align with standards, are customizable, and span a wide range of subjects, including core, electives, foundational, AP, and honors for middle and high school students. Apex Learning curriculum features rigor and supports through extensive scaffolding and embedded learning tools that prepare all students to succeed and thrive.
"This recognition acknowledges our expertise in establishing districtwide partnerships to provide continuity and support for educators and students that continue to increase student achievement, graduation rates, and more students who are college and career ready," said Chris Porter, CEO, Apex Learning.
"Despite the many challenges schools have had to face this past year, technology continues to be one of the key drivers for innovation," says Tech & Learning Group Publisher Christine Weiser. "The winning products have supported continuous instruction throughout the pandemic, and we expect this momentum to continue into next year and beyond. Congratulations to all of our winners."
About Apex Learning
An industry leader with deep expertise in digital curriculum, Apex Learning works closely with school districts across the country to implement proven solutions that increase on-time graduation rates and create opportunities for student success in school and beyond. The company is driven by the understanding that supporting the needs of all students – from struggling to accelerated – strengthens schools and creates stronger communities, brighter futures and a more equitable world. Apex Learning is accredited by Cognia and its courses are approved for National Collegiate Athletic Association eligibility. Apex Learning, where opportunity thrives. For more information, visit http://www.ApexLearning.com.