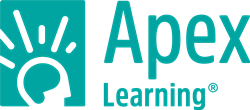 "We prioritize the safety of our students and educators, which is why we are pleased to see that our expectations for high standards are being recognized by the IMS Global Learning Consortium." -Chris Porter, CEO, Apex Learning
SEATTLE (PRWEB) February 01, 2021
Apex Learning, a recognized leader in digital curriculum, was awarded the IMS TrustEd Apps™ Seal from IMS Global Learning Consortium® for meeting expectations of data privacy. The certification affirms that Apex Learning has completed the rigorous vetting process for responsible student data privacy practices.
"With so many students learning online, ensuring that data and privacy is secure is absolutely critical," said Chris Porter, CEO, Apex Learning. "We prioritize the safety of our students and educators, which is why we are pleased to see that our expectations for high standards are being recognized by the IMS Global Learning Consortium. Education leaders can have peace of mind that when they partner with Apex Learning, their data and privacy is protected."
Apex Learning partners with thousands of schools and districts to provide students with critical access to high-quality, rigorous curriculum so they can graduate on time and bridge student learning gaps—all using a curriculum that flexes to support in-class, hybrid, and virtual learning needs.
"The IMS TrustEd Apps Seal establishes a new foundation for clarity about data usage and privacy—and it evolves to meet changing needs," said Dr. Tim Clark, vice president of K-12 programs, IMS Global Learning Consortium. "Educational institutions tell us that the IMS TrustEd Apps Seal is allowing them to streamline their vetting processes so they can get innovative resources into teachers' and students' hands quickly. We're excited about the response we've received, and we encourage all educational institutions to look for suppliers like Apex Learning that have been awarded the IMS TrustEd Apps Seal."
View the full list of certified vendors here.
About Apex Learning
An industry leader in online education with deep expertise in digital curriculum, Apex Learning works closely with school districts across the country to implement proven solutions that increase on-time graduation rates and create opportunities for student success in school and beyond. The company is driven by the understanding that supporting the needs of all students – from struggling to accelerated – strengthens schools and creates stronger communities, brighter futures and a more equitable world. Apex Learning is accredited by Cognia and its courses are approved for National Collegiate Athletic Association eligibility. Apex Learning, where opportunity thrives. For more information, visit http://www.apexlearning.com.