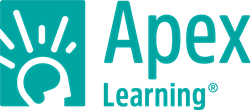 "This partnership with Instructure will continue to personalize the learning experience for students and streamline instruction for educators." - Chris Porter, CEO, Apex Learning
SEATTLE (PRWEB) February 18, 2021
Apex Learning, a recognized leader in digital curriculum, announced an expanded partnership with Instructure, an education technology company and the makers of the Canvas learning management system (LMS). The partnership strengthens the company's commitment to streamlined teaching and learning by enabling educators to seamlessly integrate Apex Learning digital curriculum.
This expanded partnership allows students, teachers, parents, and administrators to engage with one platform for communication, collaboration, and to access Apex Learning instructional content.
"As a complete digital learning solution provider for grades 6-12, we recognize that in order to accelerate student success with digital resources, students need to be able to directly access learning in the classroom, virtually, or in a hybrid model," said Chris Porter, CEO, Apex Learning. "This partnership with Instructure, the makers of the Canvas learning management platform that supports millions of students and teachers worldwide, will continue to personalize the learning experience for students and streamline instruction for educators."
Instructure is dedicated to improving teaching and learning. The Instructure Learning Platform helps make learning personal through software, content, assessment tools, professional development, partner technologies, and a million-member-strong user community. Instructure solutions amplify the power of teaching and elevate the learning process, leading ultimately to improved learning outcomes
About Apex Learning
An industry leader in online education with deep expertise in digital curriculum, Apex Learning works closely with school districts across the country to implement proven solutions that increase on-time graduation rates and create opportunities for student success in school and beyond. The company is driven by the understanding that supporting the needs of all students – from struggling to accelerated – strengthens schools and creates stronger communities, brighter futures and a more equitable world. Apex Learning is accredited by AdvancED and its courses are approved for National Collegiate Athletic Association eligibility. Apex Learning, where opportunity thrives. For more information, visit http://www.apexlearning.com.