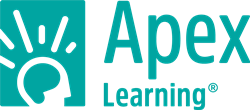 "If we didn't have access to this program, our students were going home without any curriculum. It was a no brainer. Apex Learning does all the heavy lifting so teachers can focus on fostering a relationship with their students." - Tom Vacanti, City School District of Albany
SEATTLE (PRWEB) August 18, 2020
Apex Learning, a recognized leader in online learning, was saluted by the Tech & Learning Awards of Excellence for providing an outstanding enterprise solution through its Learning Continuity Program. Recognized for its uniqueness in the market, ability to solve a problem, price value, and suitability for use, the Learning Continuity Program was designed to meet district needs during COVID-19. It has helped hundreds of schools transition to fully virtual learning environments— getting entire districts up and running in just a couple of days.
"Because of the speed of the shutdown, nobody was able to prepare anything, but we launched a mass roll-out literally over the course of a weekend," said Tom Vacanti, Online Learning Coordinator, City School District of Albany, New York. "If we didn't have access to this program, our students were going home without any curriculum. It was a no brainer. Apex Learning does all the heavy lifting so teachers can focus on fostering a relationship with their students."
The Learning Continuity Program was designed to ensure learning continues – no matter the circumstances – and includes flexible options to make sure that happens. During COVID-19, the program allowed districts to quickly and affordably expand online learning with access to standards-aligned Courses and Tutorials. Administrators and teachers can monitor student learning as well as performance and achievement data to document student use and progress while away from school. When school resumes, educators will know right where each student is academically.
"Whatever program you use, it's a huge shift in perspective to move to a fully virtual environment," said Vacanti. "You better have a robust teacher and student-friendly system that's easy to roll out. I don't think we could have made the decision to go fully virtual if we did not partner with Apex Learning."
Every district that partners with Apex Learning has a dedicated success manager who is committed to making the transition to a fully digital program as seamless as possible. This includes establishing customized policies and procedures for the district, developing orientation guides for educators and students, and providing guidance on how to use the tools and resources available.
"Quick and efficient access to high-quality digital curriculum was a critical priority for educators this spring," said Chris Porter, CEO, Apex Learning. "With the rapid shift to virtual learning, districts needed a digital curriculum partner that provided engaging and effective curriculum, as well as the personalized support they needed. This recognition from Tech & Learning acknowledges our expertise in implementing world-class online learning and providing district leaders with the partnership and dedicated service they need to help their students and staff succeed."
Apex Learning will be recognized in the July/August edition of Tech & Learning magazine. To see Apex Learning recognized on the list of winners, visit: https://www.techlearning.com/news/awards-of-excellence-winners-for-2020-announced-by-tech-and-learning-magazine.
About Apex Learning
An industry leader with deep expertise in digital curriculum, Apex Learning works closely with school districts across the country to implement proven solutions that increase on-time graduation rates and create opportunities for student success in school and beyond. The company is driven by the understanding that supporting the needs of all students – from struggling to accelerated – strengthens schools and creates stronger communities, brighter futures and a more equitable world. Apex Learning is accredited by AdvancED and its courses are approved for National Collegiate Athletic Association eligibility. Apex Learning, where opportunity thrives. For more information, visit http://www.ApexLearning.com.