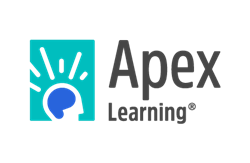 SEATTLE (PRWEB) March 07, 2019
Apex Learning, a recognized pioneer and innovator in online learning for secondary education, partnered with education leaders to facilitate a workshop at the 2019 Texas Computer Education Association (TCEA) Convention and Exposition on meeting the needs of English language learners. The conference was held in San Antonio at the Henry B. González Convention Center.
Texas has the third-largest population of English language learners (ELL students) nationwide. Impressively, the state also has a higher-than-average ELL graduation rate (71.5 percent vs. 63 percent nationally), the result of focusing on ELL students and leveraging evidence-based instruction, personalized learning and digital curriculum.
Jerald Wison, administrator, Dr. Emmett J. Conrad High School in the Dallas Independent School District, and Cynthia Morton, principal, McKinney Independent School District, led a discussion on the challenges of supporting the needs of ELL students as well as best practices for implementing and evaluating effective resources to drive achievement for this growing population of students.
"We are honored to partner with leading Texas districts to highlight their efforts to meet the needs of English language learners," said Cheryl Vedoe, CEO, Apex Learning. "Districts using our digital curriculum with ELL students are able to simultaneously build fluency and subject-level mastery, providing students with the foundation they needed to excel in school and beyond."
To learn more how Apex Learning supports English language learners, check out this special report.
About Apex Learning
Schools and districts nationwide implement Apex Learning digital curriculum to personalize the learning experience and support success for all students-from those who are struggling to those capable of accelerating. Proven to increase outcomes, Apex Learning digital curriculum actively engages students in learning, with embedded supports and scaffolds to meet the needs of diverse learners. During the most recent school year, there were more than 3.6 million enrollments in Apex Learning digital curriculum. Headquartered in Seattle, Apex Learning is accredited by AdvancEd and its courses are approved for National Collegiate Athletic Association eligibility. For more information, visit http://www.apexlearning.com or call 1.800.453.1454.