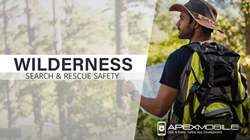 FOOTHILL RANCH, Calif. (PRWEB) September 29, 2020
Apex Mobile is excited to add yet another great tool to its growing list of features that are all designed to help public safety agencies improve communication and efficiency.
Originally developed and launched with the Sublette County Sheriff's Office in Wyoming, Apex Mobile is excited to offer the Wilderness Search & Rescue feature, designed to put vital information at safety personnel's fingertips in the critical, time-sensitive moments after a person or group has gone missing.
The Wilderness Search & Rescue feature enables hikers to provide information about their adventure before departing, including details like their planned length of stay, the number of people in their party, planned route of travel, their experience level in the wilderness, emergency contact information, vehicle information, and more. Having this information can make a significant impact on how quickly public safety personnel can provide aid should an emergency situation arise, allowing officers to take action swiftly by more accurately identifying when and how the hikers may need assistance.
The feature also includes information about the area, safety tips for hiking and camping in the wilderness, details about the area's local volunteer search and rescue organization, and more. Trail maps of the area will be added soon.
"In Sublette County, we cover a jurisdiction of almost 5000 square miles of open terrain and very mountainous areas," said Administrative Sergeant Travis Bingham of the Sublette County Sheriff's Office. "In the past we have always encouraged people to register via our website when going into the wilderness. Now, however, with the new feature in the app they just enter a few fields in the app, submit and it's done before heading into the backcountry. This is very important for our Search members when covering that kind of area because having a starting point and "who, what and where" makes all the difference when minutes count!" Sgt. Bingham said.
A key factor in educating the public about this app feature and encouraging adoption of it is marketing the app and Wilderness Search & Rescue feature through signage at parking areas and trail heads. The Sheriff's office has created posters that describe the app and Wilderness Search & Rescue feature and contain a custom QR code that allows hikers to scan the code and be taken immediately to download the app. This makes it as easy as possible for the public to understand the benefits of the feature and put it to use.
Apex is proud to have collaborated with Sublette County on such an important project. Apex Mobile currently works with police agencies across the US and Canada to provide community engagement and internal public safety communication mobile applications and web portals. Apex client agencies include LA County Sheriff (CA), LAPD (CA), Bergen County Sheriff (NJ), Kent County Sheriff (MI) and the Maryland Department of Transportation Police.
About Apex Mobile
Apex Mobile is a leader in the development and implementation of mobile applications for public safety organizations. Built on a proprietary platform, Apex Mobile allows agencies to engage with the public more effectively than ever before with both standard and custom application functions. Currently in service with more than 150 law enforcement and fire agencies across the US and Canada, Apex Mobile is bringing community policing into the mobile age and putting the power of mobility in the hands of first responders. For more information on Apex Mobile and their application platform call (949) 309-2408 or go to apexmobile.net
Additional Apex Mobile services include CivicSocial (http://www.civicsocial.com) and Lighthouse Health & Wellness (http://www.lighthousehw.org).
CivicSocial.com is a free tool to help time-crunched government and public safety PIOs and social media managers create quality branded social media and marketing materials for their agencies.
Lighthouse Health & Wellness is a free resource that provides first responders and those that support them confidential and anonymous access to health and wellness information.