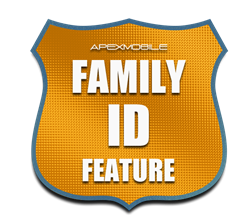 As with so many of our features, Family ID was created to solve a problem or improve a process one of our clients needed help with. We believe in truly working together with government agencies, speaking one-on-one with each of our clients to discover their needs and wants and use that real-world in
FOOTHILL RANCH, Calif. (PRWEB) July 06, 2020
Apex Mobile has added yet another great tool to its growing list of features designed to help public safety agencies use technology to enhance their community policing efforts.
Originally developed and launched with the Coppell Police Department in Texas, Apex Mobile is excited to offer the Family ID feature, designed to put vital information at officer's fingertips in the critical, time-sensitive moments after a person has gone missing.
Using Apex Mobile's mobile application platform, families can download their local agency's custom app and create a unique profile within the app for each family member. The profiles can include medical history information, medication needs, physical descriptions, special needs, and more. This information is stored only in the individual's app and is not shared with others unless there is a need. If a crisis develops, this information can be shared with police, giving law enforcement a strong start in finding the missing individual as quickly as possible.
"As with so many of our features, Family ID was created to solve a problem or improve a process one of our clients needed help with. We believe in truly working together with government agencies, speaking one-on-one with each of our clients to discover their needs and wants and use that real-world insight to drive new feature development," said Joe Ramirez, Founder and President of Apex Mobile, a leader in mobile technology for public safety agencies. "Then all of our agencies reap the benefits, since once a feature is launched we immediately offer it to our entire client network. As one improves, we all improve."
The Family ID feature is just one of many helpful tools designed by Apex Mobile to enhance communication between law enforcement agencies and the public they serve. Mobile apps can be extremely valuable tools for community policing. Apps integrate seamlessly into an agency's community policing and engagement plan, enhancing communication efforts and making them more effective and efficient.
Apex Mobile currently works with police agencies across the US and Canada to provide community engagement and internal public safety communication mobile applications and web portals. Apex client agencies include LA County Sheriff (CA), LAPD (CA), Bergen County Sheriff (NJ), Kent County Sheriff (MI) and New Jersey State Highway Patrol.
About Apex Mobile
Apex Mobile is a leader in the development and implementation of mobile applications for public safety organizations. Built around a proprietary platform, Apex Mobile allows agencies to engage with the public more effectively than ever before with both standard and custom application functions. Currently in service with more than 150 law enforcement and fire agencies across the US and Canada, Apex Mobile is bringing community engagement into the mobile age and putting the power of mobility in the hands of first responders. For more information on Apex Mobile and their application platform call 949-305-7008 or go to apexmobile.net
Additional Apex Mobile services include CivicSocial(http://www.civicsocial.com) and Lighthouse Health & Wellness (http://www.lighthousehw.org).
CivicSocial.com is a free tool to help time-crunched government and public safety PIOs and social media managers create quality branded social media and marketing materials for their agencies.
Lighthouse Health & Wellness is a free resource that provides first responders and those that support them confidential and anonymous access to health and wellness information.