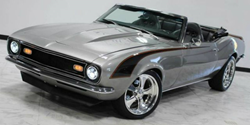 BURR RIDGE, Ill. (PRWEB) November 13, 2018
Across the annals of automotive history, few brands have symbolized more in the way of power, adrenaline and legendary status than Chevrolet. Each model that the Chevrolet family produces has its own story to tell, from pickups like the Silverado to higher-performing sports cars like the Corvette and Camaro. Chicagoland dealership Apex Motorworks has an extensive selection of the latter and is currently promoting it to local shoppers and enthusiasts.
The current Corvette inventory at Apex Motorworks represents both the 1999 and 2016 model years, each of which with trademark V8 power and low, subdued stances customary for the Corvette family. Also available at Apex Motorworks is a 1968 Chevrolet Camaro, complete with a 502 High Output Big Block V8 engine. More information on each of these models can be found on the dealership's inventory page.
Those who would like to sign off on the Chevrolet Corvette or Camaro should first visit the credit approval module on the Apex Motorworks website. By inputting basic information and themselves and their financial situations, customers can get approved for financing quickly. All information shared with the dealership is securely encrypted.
Any interested members of the public who want to learn more about the Chevrolet Corvette or Camaro models at Apex Motorworks should contact the dealership, either by phone at 630-819-5157 or online at apexdrive.com. Drivers may also visit Apex Motorworks in person at 16W260 83rd Street in Burr Ridge, Illinois.