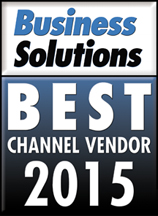 We value our strong reseller partnerships and are grateful for their recognition and support.
Minneapolis, MN (PRWEB) January 07, 2015
January 7th, 2015- APG Cash Drawer, LLC, worldwide manufacturer of cash drawers, mobile cash drawer solutions and other POS integration products, is proud to announce they have been selected by Business Solutions Magazine's VAR subscribers for the fifth time as Best Channel Vendor for 2015. Out of 80 POS manufacturer nominees, only the top 5% selected had high enough scores to receive this award. APG was chosen as one of the top vendors in the POS Hardware category with the top criteria being Channel Friendliness and Product Reliability.
From September 2014 to mid-October 2014, BSM collected a total of 8,848 validated votes from 2,921 verified reseller subscribers and for the seventh consecutive year scores were calculated by Penn State University for statistical accuracy. Based on 7 categories, APG's overall score qualified them as Best Channel Vendor. These categories included: Service/Support, Channel Friendly, Channel Program, Product Features, Product Reliability, Product Innovation, and Adequate VAR Margins.
The POS marketplace continues to develop and mature with new entrants into the space. "This was the second year that we included cloud/mobile/tablet software options which continue to flood the market," according to BSM's Editor. "The payment processing industry continued to further integrate with the POS world in 2014."
"APG is honored to have been recognized by the VAR community as a Best Channel Vendor for the fifth time in the past 7 years" stated John Meilahn, V.P. of Global Sales at APG Cash Drawer. "We value our strong reseller partnerships and are grateful for their recognition and support. We will continue our efforts to earn your trust with innovative solutions that fit your needs within our changing marketplace."
About APG Cash Drawer, LLC
APG manufacturers highly durable and dependable cash drawers. APG has built a reputation as the supplier of choice for retail, hospitality and mobile cash drawer solutions for thousands of customers throughout the world. To learn more about APG's products, visit http://www.cashdrawer.com or call 763-571-5000. Follow us on Twitter at @apgcashdrawer and on Facebook.