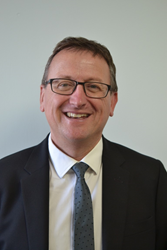 I'm excited about the wide range of knowledge and experience he brings specifically for the EMEA marketplace.
Newhaven, UK (PRWEB) April 04, 2017
APG Cash Drawer, a fast-growing global manufacturer of cash management solutions, announced today the addition of Mike Doyle to the position of European Sales Director. In this role, Mike will oversee our European sales activities as APG continues to grow business across EMEA.
Mike is an experienced Sales leader with a proven track record of building strategic engagements and relationships with major retail customers. He also brings extensive experience in creating and leading successful and diverse Sales teams. His primary focus has been in the Retail and Logistics sector. Most recently Mike led Datalogic in the UK, where he spent the last three years developing and growing the UK business through channel partner acquisition and enablement programs. Prior to that Mike was at NCR managing the Tesco global relationship, having previously spent several years working for Symbol Technologies / Motorola.
"I am delighted to be joining APG to lead the European sales team on their journey," said Mr. Doyle. "APG has a fantastic presence and track record in the retail and hospitality industries which provides a great platform to deliver further growth. There is real strength in the core European countries and beyond that great potential for expansion in various emerging markets. The SMARTtill Solution proposition is very strong with a proven business case – I am looking forward to working with our customers and key partners to develop this business further."
After thirteen years, Steve Roys has decided to retire from APG Cash Drawer as Sales Director. Andrew Carr, Managing Director of APG Cash Drawer Europe, stated: "Under Steve's leadership, the former Cash Bases company grew the bespoke cash drawer business year over year and Steve played a big part in bringing the innovative SMARTtill Cash Management Solution to the PoS Marketplace. We wish Steve well in his retirement and with the charity work and travelling he intends to undertake."
Mr. Carr also commented that he is thrilled to welcome Mike Doyle to the APG sales team. "I'm excited about the wide range of knowledge and experience he brings specifically for the EMEA marketplace," said Mr. Carr. "He will play an integral role as we enter the next chapter in our journey to be our customers' number one choice in cash management systems."
Based in Hampshire, United Kingdom, Mike is married with two children. In his spare time, he enjoys cycling and golf. Mike Doyle can be reached at mike.doyle(at)eu.cashdrawer.com or at +44 1273 616303.
About APG Cash Drawer, LLC – APG Cash Drawer, with over 38 years of experience, manufactures a wide range of highly durable and reliable cash drawers that are delivered quickly to the marketplace. APG has built a reputation as the supplier of choice for cash management solutions for retail, grocery, hospitality, and quick serve for thousands of customers throughout the world. Whether it's our general application cash drawer, custom designed solutions, or the SMARTtillTM Intelligent Cash Drawer, our products and brand are differentiated by our ability to deliver innovative technologies that globally enhance efficiency and security at the point of sale. To learn more about our products, visit http://www.cashdrawer.com/europe or call +44 1273 616300. Follow us on Twitter at @apgcashdrawer and on Facebook.