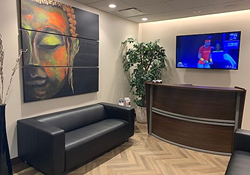 People want better preventive care and with that, they also want to be the best version of themselves. We provide the means for that
WASHINGTON (PRWEB) August 28, 2020
APMI Wellness Center is excited to announce the launch of their state-of-the-art Wellness Center in Chevy Chase, Maryland. In this day and age, there are a growing number of Americans who are actively seeking preventive healthcare and wellness because they want to stay healthy and recover from injury and illness more quickly. In response, one Maryland practitioner is seeking to support patients who want to more actively take charge of their own healthcare and wellness.
Patients Seeking Better Preventive Healthcare
In a recent 2019 study, "Health Care Industry Insights: Why the Use of Preventive Services Is Still Low," the author's compiled data from 2014 revealing that "60% of adult Americans had at least one chronic disease or condition, and 42% had multiple diseases." While those numbers are alarming, health trends indicate that institutionalized standards of care will likely be slow to shift. Meanwhile, chronic illness is burdensome and significantly reduces the quality of life for patients and for their families. This reality has led many patients to take charge of their own healthcare and wellness. Not only do patients want to prevent illness, they want better solutions for recovering from injury and illness more quickly.
Reza Ghorbani, MD, ABIPP, FIPP based in Chevy Chase, Maryland, is providing patients a better means for managing their own health. As a Harvard-trained author, inventor and board certified Interventional Pain Management Specialist, Dr. Ghorbani recognizes a clear need for better preventive care. He explains, "I was seeing a lot of people that are not necessarily sick, but want to be healthy. I have also treated numerous patients suffering from various injuries or illnesses that upon recovery want better post-injury preventive care." Dr. Ghorbani put his vision into action by building APMI Wellness Center, a state-of-the-art health and wellness center in Chevy Chase Maryland.
About Dr. Reza Ghorbani
Dr. Ghorbani is the President and Medical Director of the Advanced Pain Medicine Institute in the Greater Washington, D.C. area. He is also the Founder and CEO of APMI Orthopaedics, Sports Health & Regenerative Medicine as well as Founder and CEO of APMI Physical Therapy and Fitness Center and Co-founder, CEO and Medical Director of Surgcenter of Greenbelt, LLC. As a leading practitioner in his field, Dr. Ghorbani has devoted his entire career to helping patients overcome pain to enable a better quality of life.
About APMI Wellness Center
"I really wanted to create something totally new" explains Dr. Ghorbani. The vision of Dr. Reza Ghorbani's APMI Wellness Center came to fruition as a state-of-the-art health and wellness center serving Chevy Chase and its surrounding communities, including Bethesda, Potomac & Washington D.C. In creating APMI Wellness Center, Dr. Ghorbani brought in numerous expert practitioners and service providers with the goal of offering an extensive selection of services all under one roof. Notable service providers include APMI Orthopaedics, Sports Health & Regenerative Medicine, Capital Cryo, Avesta Ketamine and Wellness, Janus Medical Spa, The Organic Spa, The Skin Strategists, and much more.
One of the leading services at APMI Wellness Center is whole body cryotherapy. Cryotherapy treatments are a popular reparative and rejuvenating treatment that uses ultra-cold temperatures to stimulate the body's metabolism, release endorphins and enhance circulation for tighter skin and better energy.
"Cryotherapy is the perfect choice for anyone who wants a quick treatment that delivers instant benefits they can feel", says Dr. Ghorbani, "From a lift in energy levels and mood to supporting skin tightening and recovery, it's a safe, natural option for all patients, both men and women".
Peter Kaminskas, Owner/Operator of Capital Cryo explains, "When Dr. Ghorbani approached me about incorporating Capital Cryo into the wellness center, I was impressed with his overall vision and immediately knew we wanted to part of the wellness center. Our recovery and wellness treatments, whether it's through cryotherapy or infrared sauna, are natural complements to the other services offered at APMI. We are thrilled to be part of a team of excellent professionals."
"With the creation of the wellness center" notes Dr. Ghorbani, "we really wanted to bring IV vitamin infusions into the picture too, so we brought in Dr. Ladan Eshkevari of Avesta Ketamine and Wellness Center."
Dr. Eshkevari explains, "Most people suffer from underlying inflammation, whether due to over exertion in exercising or exposure to environmental factors. The IV vitamins and the individual mixtures we provide at the center are customized to every individual's needs. Most patient's report feeling energetic, hydrated and improved mental clarity."
In addition to cyrotheraphy and IV vitamin infusions, APMI Wellness offers an extensive selection of treatments and services including acupuncture, body sculpting, cryofacials, Dexa body scan, facials, fillers, fitness, hair restoration, infrared sauna, laser skin resurfacing, laser hair removal, massage therapy, private yoga, PRP, stem cell therapy, sunless spray tanning, varicose vein removal, waxing and more.
Dr. Ghorbani explains, "People want better preventive care and with that, they also want to be the best version of themselves. We provide the means for that." For example, APMI Wellness Center offers other signature services such as body sculpting, laser skin resurfacing, and laser hair removal performed by leading provider Janus Medical Spa.
Dr. Robert Rosenbaum, owner of Janus Medical Spa explains that attentive client care is a founding tenet at APMI Wellness Center. "We enjoy meeting and caring for our neighbors and friends at APMI. Our clients are a joy to serve and we look forward to continuing to grow our capacity to integrate care services so they will find us a convenient and trusted source of health and wellness information."
APMI Wellness Center is strongly committed to providing the leading non-surgical and non-invasive wellness and esthetic treatments on the market with the goal of delivering a high level of results with minimal downtime. "There is really no other place like it in the area. In addition to serving our local community, we also want APMI Wellness Center to serve as a destination for travelers and athletes" notes Ghorbani. "It is not uncommon for a professional athlete to stop by our facility for treatment!"
To book a consultation at the new Chevy Chase location, please call 240-534-2492 or visit apmiwellnesscenter.com for a complementary consultation. To visit, stop by 5454 Wisconsin Ave, Chevy Chase, MD 20815. Follow APMI Wellness Center on Facebook @apmiwellness and Instagram at @apmiwellnesscenter for updates, tips, ideas and more.
Reference List
Levine S, Malone E, Lekiachvili A, Briss P. Health Care Industry Insights: Why the Use of Preventive Services Is Still Low. Prev Chronic Dis 2019