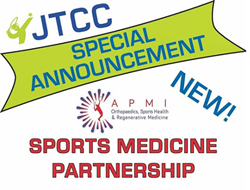 Dr. Reza Ghorbani, CEO & founder of APMI Ortho Sports, said, "Our vision is to provide the athletes, their families, and the tennis community with high-quality, cutting-edge, comprehensive sports medicine care. We want to make sure our athletes are able to compete at their very best"
CHEVY CHASE, Md. (PRWEB) March 29, 2019
APMI Orthopaedics, Sports Health & Regenerative Medicine is excited to announce its sports medicine partnership with Junior Tennis Champion Center (JTCC), a world-class tennis program in College Park, Maryland. Currently, more than 150 students are enrolled in the full-time and after-school year-round programs increasing to 1,000 players during summer camp season. JTCC Tennis Academy notable alumnus include Frances Tiafoe, the #2 ranked American Tennis player, and Denis Kudla, the first JTCC player to achieve a top 100 ATP singles world ranking.
APMI Ortho Sports has partnered with JTCC to provide a comprehensive and holistic approach to sports medicine, physical therapy, and fitness programs for the high performing student-athletes. The safety and wellness of each athlete is the primary goal of the partnership. In announcing the partnership, Dr. Reza Ghorbani, CEO & founder of APMI Ortho Sports, said, "Our vision is to provide the athletes, their families, and the tennis community with high-quality, cutting-edge, comprehensive sports medicine care. We want to make sure our athletes are able to compete at their very best"
APMI's leading-edge sports medicine team will offer total care for JTCC athletes and their families, managing not only acute sports injuries but also their non-acute, individual health conditions such as chronic back pain, orthopedic concerns, fitness training, and nutritional issues. "We are honored to be working with JTCC as a partner in health for all their players, many of whom are very elite athletes," says Dr. Christina Cervieri, Medical Director of APMI Ortho Sports. "Regardless of their level when we see them, these tennis players are all working as hard as they can to raise their level of competition, and we are here to help them achieve their physical best," Dr. Cervieri continued.
APMI Ortho Sports provides immediate care for musculoskeletal injuries through a direct-access program, so that rehabilitation is faster, and the athlete returns quicker to the game. In doing so, APMI's entire health care team makes sure athletes have the necessary resources to optimize their performance. A Board-Certified Orthopaedic Surgeon, Dr. Cervieri says "Sports Medicine and Orthobiologics are constantly-developing fields, and we are prepared to integrate new advances into care and treatment plans to give the competitive edge."
The outstanding APMI Ortho Sports team is led by Orthopaedic Surgeon and Medical Director, Christina Cervieri, MD, Head Physical Therapists, Angel Casul and Sherry Ling, Director of Fitness, Laurent Amzallag, and Registered Dietician, Mary Perry.
As the official healthcare provider for JTCC Academy, APMI Orthopaedics, Sports Health & Regenerative Medicine provides:

Direct access to physicians, imaging and other medical care
Injury care, management, and prevention
Full-time licensed Physical Therapists on site at JTCC Training Facility
Registered Dietician providing sports nutrition counseling
Medical and fitness education through lectures and counseling
The medical professionals at APMI Ortho are at the forefront of keeping athletes physically fit. This means athletes at the college, high school, and youth levels benefit from the same top-of-the-line care as professional athletes. APMI Ortho Sports is proud to partner with professional teams, high schools and the finest sports facilities in the entire mid-Atlantic region.
About JTCC:
JTCC is a nonprofit organization transforming lives through the sport of tennis. JTCC provides a pathway for talented and highly motivated young individuals to follow their aspirations at top colleges and universities nationwide. The United States Tennis Association (USTA) selected JTCC as the first Regional Training Center for its high performance. Currently, more than 150 students are enrolled in the full-time and after-school year-round programs increasing to 1,000 players during summer camp season.
About APMI Ortho Sports:
APMI Orthopaedic, Sports Health & Regenerative Medicine is the premier destination for cutting-edge Orthopedic and Sports Medicine treatment. APMI offers a full spectrum of care that includes physical therapy, non-surgical and surgical treatment options, a fitness center, acupuncture, and multi-dimensional wellness services. APMI Orthopaedics, Sports Health & Regenerative Medicine is committed to health by using a multidisciplinary approach to create a customized treatment plan to address individual health needs. The experienced and knowledgeable staff at APMI can alleviate pain, improve functionality, and get each patient back onto the field or into a healthier, physically active lifestyle.
A sports injury can affect men, women, and children of all ages and athletic levels. It can be minor or severe. It can occur due to an accident that was completely beyond control or develop due to improper training, techniques and/or equipment. Regardless, an injury can have a debilitating impact on the quality of play. If not treated immediately, effectively and comprehensively, it can unnecessarily keep someone sidelined for weeks or months and that's simply not acceptable for the people we treat.
Visit us online http://www.apmiorthosports.com for more information.
Follow us on Facebook: https://bit.ly/2EysIlK
Instagram:https://www.instagram.com/apmiorthosports/