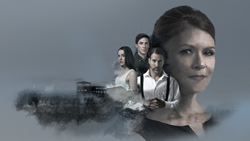 "This is the best news we could have gotten! I've been talking about it over the last couple of years, not to mention everyone else who has been waiting to see this movie. Now at the very least, they just have to wait until June!", says, William Warren, Director and Screenwriter
TUCKER, Ga. (PRWEB) February 18, 2019
Apocalypse Island, a drama surrounding a cult hidden away in the island marshes of the deep south. It follows Cam, the Pastor's son, as he seeks to save his sister's life from a mysterious affliction. In the end, he discovers the true nature of the island he calls home, that of his father, and how unreliable the mind and memory truly are.
For months, CATMEDIA has been working with Summerhill Entertainment to facilitate distribution. This partnership had already been promising, with news earlier this year that Apocalypse Island would be distributed in the Philippines and Vietnam. But it was at the American Film Market in Santa Monica, CA, this past November that the movie was contracted for distribution in the North American Market (which includes the US and Canada).
Release in North America is scheduled for June 25, 2019 on DVD, EST, and Transactional Digital. Starting in March, preorder on Amazon will be available. Be sure to follow Apocalypse Island on Facebook, Twitter, and Instagram for updates on its release, including information on which stores and platforms will have the DVD and digital to sell.