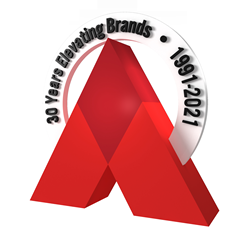 "Experience means a lot in this business. Over 80% of our employees have over 20 years in this industry
ROCHESTER, N.Y. (PRWEB) January 07, 2021
Apogee Exhibits and Environments celebrates its 30th Anniversary as a global Event and Experiential Marketing agency in 2021. Founded by retired Army Colonel and Vietnam Veteran, Frank Leggio in 1991 in Rochester NY, the company was launched as a dealer/distributor for a nationally recognized display brand. 8 straight years of 30% or more growth allowed the company to expand both it's coverage, and its capabilities. The company has adapted and evolved several times to meet the ever-changing demand of the live events industry. In 2016 the company expanded its in-house graphic production and custom carpentry and fabrication shop.
The Coronavirus pandemic hit the live events industry hard in 2020, causing a complete shut-down of the industry. With no one attending live events, Apogee quickly pivoted and began offering PPE to area healthcare institutions. In the Summer of 2020, the company spun-off it's corporate Interior and Environments capabilities to its own division, Apogee Environments. Since that time the company has expanded its corporate interior design services to also include COVID-19 response products such as Disinfectant foggers and sprayers, hand sanitizing stations, and more. With many events going virtual, Apogee also quickly added a virtual/digital marketing strategy component that it is currently deploying to help clients stay in front of their audiences in a digital or virtual medium.
Current President and CEO Mark Taylor, who purchased the company in 2011 states that the company's greatest asset has always been its people. "Our staff is phenomenal. Nearly every staffer that works here knows each and every client, and the clients have relationships with not only their account executive but other employees. That's what makes our small, nimble and close company so valuable to me."
"Experience means a lot in this business. Over 80% of our employees have over 20 years in this industry," Taylor adds. Creative Director, Brenda Vreeland, the company's longest tenured employee who will also celebrate her 30th Anniversary in 2021 is just one of those talented people that make up the team at Apogee.
"As an Exhibit/Graphic Designer at Apogee, it has never been "just" a job for me. I have always felt very fortunate to have been able to say that I love my career, love being creative on a daily basis, love meeting with clients to uncover their needs, and in turn design "wow" solutions for them. The actual company itself has been what has attracted me to dedicate my talents for 30 years. Apogee has always been a company that cares deeply about their employee's wellbeing, as well as their clients. I love the fact that we work together as a team to provide the best solution for our clients. It's that teamwork mentality that makes us who we are, allows us to differ from other companies. I am grateful that Apogee has nurtured my creativity by investing in me to learn and grow with the industry as it changes, has granted me the ability to travel extensively, but most of all has given me a family outside of my own."
For more information about Apogee, please visit our website at http://www.apogeeexhibits.com.
Contact info:
Mark Taylor
Apogee Exhibits and Environments
1604 Wayneport Road
Macedon, NY 14502
1-800-783-4377