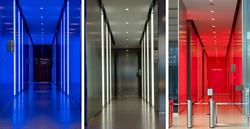 The new color tunable lighting at 3 World Trade Center, made possible by Apogee Lighting's Pixel LED Panels,
DEER PARK, N.Y. (PRWEB) September 17, 2020
The lobby of 3 World Trade Center is shining in red, white and blue thanks to a customized lighting solution created by Apogee Lighting LLC, located in Deer Park, NY. The design and installation provide building owner and manager Silverstein Properties the ultimate in lighting flexibility, enabling an infinite number of color combinations for any occasion or commemorative event.
"We are delighted to have contributed to one of New York City's most iconic buildings, and add to its already well-established reputation," said Marty Gaon, Vice President of Apogee Lighting. "The new color tunable lighting at 3 World Trade Center, made possible by our Pixel LED Panels, further enhances the experience of visitors and tenants to a building that has helped transform downtown Manhattan."
"It's amazing to see how this unique lighting solution adds to the ambience for those entering this beautiful property," said Carlos Valverde, Vice President for Real Estate Development at Silverstein Properties. "3 World Trade Center is one of the most sustainable buildings in New York City, having received the USGBC rating of LEED Gold earlier this year, and this LED lighting solution is consistent with Silverstein Properties' energy efficiency philosophy."
Apogee Lighting was founded over 30 years ago and continue to be one of the fastest growing manufacturers of high performance, energy-efficient infrastructure and architectural lighting in the U.S., offering a variety of high quality commercial, industrial, and residential lighting solutions.