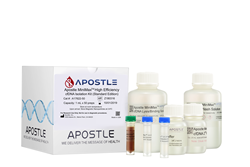 MENLO PARK, Calif. (PRWEB) February 28, 2019
Apostle Inc is pleased to announce an exclusive partnership with Beckman Coulter, a world leader in Life Sciences, for Apostle MiniMax(TM) High Efficiency Cell-Free DNA Isolation Kit. As cell-free DNA (cfDNA) workflows move beyond theoretical and into human health applications, Apostle's industry leading chemistry paired with Beckman Coulter's portfolio of genomic reagents and liquid handling platforms enables researchers to meet the growing demands for sequencing of tumor-derived cfDNA.
Surpassing industry standards for yield and purity of cfDNA, Apostle MiniMax(TM) technology ensures precise capture and separation of cfDNA for Liquid Biopsy. This is achieved through novel proprietary Apostle MiniMax(TM) magnetic nanoparticles with novel material composition and surface chemistry, large surface area and minimized variation. Today, at the Advances in Genome Biology and Technology (AGBT), Beckman Coulter announces this exclusive partnership with Apostle and revealed data demonstrating the outstanding performance of Apostle MiniMax(TM) High Efficiency Cell-Free DNA Isolation Kit. Due to limited cfDNA concentration, sufficient yield for next-generation sequencing (NGS) or other downstream applications can require higher volumes of plasma. As the volume increases, issues such as recovery efficiency and workflow complexity often arise. Plasma contains a host of contaminants which are problematic at this scale and can reduce assay sensitivity. Apostle MiniMax(TM) technology performs reliably across a range of volume inputs, consistently recovering high quantities of cfDNA, while effectively removing contaminants.
"Apostle is pleased to announce a multi-year partnership agreement with Beckman Coulter. Beckman Coulter has a long history as a life science industry leader, providing consumables and kit with unparalleled performance and reliability, which makes them an ideal collaborator to provide access to Apostle's innovative nucleic acid isolation products to customers around the globe. With this collaboration, customers in the liquid biopsy and DNA isolation field will have access to the best chemistry in sample processing. Beckman Coulter's established global presence, commitment to life sciences and best-in-class automation platform, combined with Apostle's top performing chemistry in isolating circulating free nucleic acids, represents a potential breakthrough for sample processing in liquid biopsy and nucleic acid isolation," said David Ge, President and CEO, Apostle Inc.
"Beckman Coulter is committed to working collaboratively with our customers to find the best technologies to meet their complex needs. We have listened to their ongoing challenges in working with cfDNA and sought to find ways to effectively combat those issues. This includes recognizing that an innovative product from a startup like Apostle is the best technology to address these needs," said Steve Wowk, Director of Genomics, Beckman Coulter Life Sciences.
About Apostle Inc
Apostle Inc is a biotechnology company in Menlo Park, CA. It's in the business of the research, development, licensing, and sales of novel technologies, and the related intellectual properties, products, and services for diagnosis and treatment of human diseases, to fundamentally improve the accuracy and efficiency of liquid biopsy - the testing of circulating free DNA (cfDNA) - in early cancer detection or other clinical applications such as noninvasive prenatal testing (NIPT), tests for infectious diseases.
About Beckman Coulter Life Sciences
For more than 80 years, Beckman Coulter has been a trusted partner for laboratory professionals, helping to advance scientific research and patient care. In the life sciences, researchers use Beckman Coulter's precision instruments to study complex biological problems, including causes of disease and potential new treatments. Beckman serves customers in a wide variety of settings: universities, government, biotechnology and pharmaceutical companies, hospitals, and commercial laboratories. More than 275,000 Beckman Coulter systems operate in both Diagnostics and Life Sciences laboratories around the world.
More information can be found at http://www.apostlebio.com.
Contact: info(at)apostlebio.com