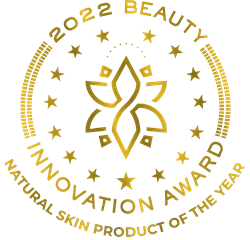 At Apoterra, we have always been committed to putting the earth first. From sourcing, ingredients, to packaging and shipments, we have an evolving journey with sustainability - Dominique Caron, Founder, Apoterra Skincare
LOS ANGELES (PRWEB) November 10, 2022
The Beauty Innovation Awards Program, the industry's most robust recognition platform for the innovators and leaders of the Beauty industry, today announced that Apoterra Skincare, devoted to achieving healthy, radiant skin naturally, has been awarded the "Natural Skin Product of the Year" award in the 2022 Beauty Innovation Awards Program. This awards program aims to evaluate and recognize the most outstanding and innovative companies, services, and products revolutionizing and advancing the Beauty industry through goods, services, and technology.
The key to natural skincare being effective is not only smart formulations, but high quality, fresh ingredients that retain their potency. Apoterra products have a freshness guarantee for all their products. The company handcrafts their products from whole plants and minerals, as well as oils, essential oils and natural extracts.
Apoterra products are made in small batches and are guaranteed fresh. The company conducts regular audits at their warehouse and with all stockists to ensure no items are more than a few months old when they arrive. At that point, any products pulled from the warehouse or from brand partners that are still in good condition get donated to a local women's shelter.
To the same end, Apoterra is devoted to shifting the standard by being as transparent as possible with their batch number system that provides in-depth transparency to both customers and wholesale partners. This system allows customers to easily look up a product's batch number to learn when it was produced, as well as country of origin, certifications and more about each ingredient used to craft the product.
Apoterra Skincare is also cruelty free and made with certified organic ingredients (either USDA or Ecocert certification).
"We're honored to receive this award from Beauty Innovation. Apoterra started as a solution to my own skin concerns. I wanted clear, radiant skin but I didn't want to use products that were bad for my health or the environment. We conduct research and product trials, and are proud to formulate all our products with whole plants, oils, earth-derived minerals and natural active ingredients," said Dominique Caron, Founder, Apoterra Skincare. "At Apoterra, we have always been committed to putting the earth first. From sourcing, ingredients, to packaging and shipments, we have an evolving journey with sustainability. It's our goal to be carbon and plastic negative by the year 2025, and to consistently find better ways to lower our environmental footprint. Apoterra's mission is to leave the world better than we found it."
As part of the Independent Innovation Awards organization, the mission of the Beauty Innovation awards is to celebrate and highlight the efforts and success of innovators and leaders in the Beauty industry. Built to recognize the most outstanding companies, services and products within the rapidly expanding Beauty industry, the awards recognize a range of beauty industry categories, including Bath & Body, Hair, Skin, & Mens Grooming and more. The 2022 Beauty Innovation Awards attracted over 2,500 nominations from around the world.
"Natural ingredients are much more complex than processed ingredients, and for this reason they are more difficult to study, and can be less stable. However, it's this complexity that makes natural ingredients incredibly effective and nourishing to the skin. When it comes to natural skincare, fresh ingredients are more potent, effective and safe. Plants, especially, are very well designed to care for our skin and bodies," said Travis Grant, Managing Director, Independent Innovation. "Everything at Apoterra is handmade in small batches from 100% organic and sustainable ingredients. They only use pure botanical and mineral ingredients and even design their packaging with sustainability in mind. We are so excited to be able to award them with the 'Natural Skin Product of the Year' award."
####
About The Beauty Innovation Awards
Part of Independent Innovation Awards organization, a global market intelligence and recognition program within the most competitive consumer categories, The Beauty Innovation Awards honors the most outstanding and innovative companies, services, and products within the rapidly expanding Beauty industry. The Beauty Innovation Awards provides public recognition for the achievements of beauty industry companies and products including Bath and Body, Make-up, Skin, Retailers and Services, and more. For more information visit: http://www.beautyinnovationawards.com.
About Apoterra Skincare
Apoterra Skincare, founded in 2012, is a woman-founded and operated, small-batch, natural skincare brand formulated with sustainably-sourced, organic, and traceable ingredients. Celebrating our 10 year anniversary this year, we have a budding esthetician network across the United States and Canada that values our effectiveness, accessibility, quality and sensorial experience - both in the treatment room and within at-home regimens. We're also proud to have been one of the original partners of PACT, a nonprofit collective catalyzing collaboration to reduce, recycle, and drive towards circularity.