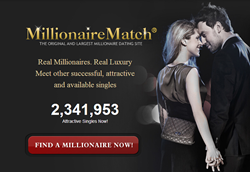 Los Angeles, California (PRWEB) August 31, 2015
The number one luxury dating website is currently conducting a hot topic that they want participants to get involved on. The topic concerns a preference on which device to use for online purposes. Mobile websites and apps make it convenient to become connected to like-minded individuals always on the go. Individuals are being asked about their opinion in using apps for online dating versus using a dating website on a computer. Today's hot topic is: "Which platform do you prefer for online dating: app, mobile site or PC?" Voters are asked to participate in the online poll located on this page. Potential participants must register and log in to vote. Signing in and signing up is free.
Basic membership to the site offers the following benefits: a confidential username and password for logging in; an option to upload photos; an option to upload private photos; an area to list a profile; a place for live chats and messages; emailing capabilities; winks; easy searching; a blog to participate in and so much more. The site also offers a paid gold membership in which there are an abundance of wealthy men and offerings to select from.
"The dating industry is constantly evolving and we want to give our clients what they want. We are always ready to grow and change with what is trending in the dating industry to better meet the needs of our valuable clients." MillionaireMatch's marketing director, Brian, said. "The mobile industry is developing extremely fast. It's important to know how people prefer to date online. So we brought up a topic like this, to better understand our clients' dating habits."
About MillionaireMatch:
MillionaireMatch.com was started 14 years ago with the goal of serving a very exclusive, elite clientele of rich and attractive men and women. Members include CEOs, pro athletes, doctors, lawyers, investors, entrepreneurs, beauty queens, super models and Hollywood celebrities who are all seeking millionaire dating opportunities and a serious, long-term relationship. Visit http://www.millionairematch.com/ for more information.