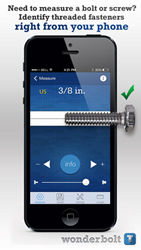 Washington, DC (PRWEB) November 06, 2014
"Wonderbolt" was featured on NewsWatch as part of its monthly AppWatch, which features the latest and coolest mobile applications on the iOS, Android, and Windows markets. Andrew Tropeano, a mobile technology expert and host of NewsWatch, conducted the app review and shared with viewers how it measures the diameter and length of a screw or bolt, and identifies the exact thread count.
Anyone who has ever built, fixed, or repaired anything has likely experienced the frustration of guessing the size of a screw or bolt. If they're lucky, they get it on the first attempt. But more often than not, they get it wrong and need to make another trip to the hardware store. Well, not anymore.
Wonderbolt is a new app that helps users measure the diameter and length of a screw or bolt in both inches and millimeters, and identify the exact thread count so they're getting it correct every time. Wonderbolt works for both US and metric sizes, provides information on which socket or Allen wrench to use, and guides with sizes for drilling holes or tapping threads.
In addition to measuring, it has a quick search feature to find the correct size and tool information. Another helpful detail is the save feature, allowing users to save sizes and make notes to remind them what is needed at the hardware store.
It's a great app for all levels of expertise and it's available for iOS devices for $2.99. They've got an Indigogo campaign running to build an Android version. So for anyone interested in downloading it or helping the campaign out, head to http://www.wonderboltapp.com.
About NewsWatch
NewsWatch is a weekly 30-minute consumer oriented television show that airs on the History Channel, FYI Network, and ION Network. NewsWatch regularly features top technology products and services, mobile applications for iOS, Android, and Windows devices, unique and beautiful travel destinations around the world, health and medical tips, and entertainment interviews on the show. NewsWatch airs on the History Channel at 6:00 – 6:30 AM ET/PT and on the FYI Network from 7:00 – 7:30 AM ET.
NewsWatch is located in the greater Washington, DC area and has been on air for over 25 years. For more information or to watch the most recent episode, visit http://newswatchtv.com/appwatch.html.