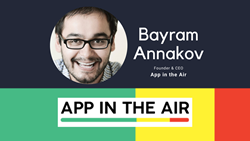 By incorporating AI technology, the app learns from your preferences, such as favorite airlines, hotels, and rental cars to streamline the overall search and booking process. It's the perfect aggregate tool for today's frequent traveler – Bayram Annakov
NEW YORK (PRWEB) October 28, 2021
There was a time when frequent flyer miles earned had a direct correlation to miles traveled. If you traveled 2,800 miles between New York and Los Angeles, you earned 2,800 reward or frequent flyer miles. Today, miles are earned based on almost anything but the miles you've traveled. Whether it's the cost of the ticket, the class of the ticket, or some other factor, tracking reward miles earned when booking airline tickets today has become difficult and frustrating. App in the Air is an all-in-one app that helps frequent flyers simplify the flight booking process, maximize their frequent flyer miles, and streamline their travel preferences using AI technology.
ExpertFlyer recently went One-on-One with App in the Air CEO Bayram Annakov, to get his perspective on the current state of air travel and understand how this app is helping millions of users make the most of their frequent flyer programs and travel purchases.
"Our vision was to build an app for frequent travelers that want to get the most out of their loyalty programs. App in the Air helps users plan, book, track, and manage their itineraries and travel loyalty programs," Annakov explains. "And by incorporating AI technology, the app learns from your preferences, such as favorite airlines, hotels, and rental cars as well as all the specific details regarding each to streamline the overall search and booking process. It's the perfect aggregate tool for today's frequent traveler," Annakov concluded.
With more than six million subscribers, Annakov and his team have a unique window into travelers' preferences and purchasing data, as well as emerging travel trends. "An overwhelming number of App in the Air users are looking for flexibility, such as refundable rates and payment options beyond pre-paid," explains Annakov. But the continued decline in business travel has been a real disrupter for the airline industry, especially for their revenue management systems. "Most travelers understand that the shorter the window between booking a ticket and the actual flight, the more expensive the ticket. This is primarily driven by business travel, which is still well below anything close to normal. The airlines' revenue pricing algorithms, which essentially relies on last minute business travel purchases, are completely misaligned with current market conditions."
And the lack of business travel has presented another trend; airlines offering affordable upgrades to first class and travelers jumping on the opportunity to experience how the other half flies. "I don't know when this is going to end, but I want to make sure we seize this moment, Annakov said. "Legacy airlines are trying to sustain pre-COVID prices by reducing their capacity, but overall, we're in a good spot. I think now is the right time, a great time to travel."
Chris Lopinto, founder of ExpertFlyer, agrees that having an app like App in the Air that manages and aggregates loyalty programs and travel preferences, including air travel, has really become a necessity today. "Being able to understand the value of your loyalty points, how to maximize them, and how to effectively grow its value, all within an app that learns as you do, can be an invaluable and rewarding tool."
To read the entire story and listen to the entire One-on-One interview with Byram Annakov visit ExpertFlyer's blog.
About App in the Air
Founded by entrepreneur Bayram Annakov and his team in 2012, App in the Air is a technology company for frequent fliers and the airlines and airports that serve them. To make travel seamless and enjoyable, App in the Air created the award-winning, all-in-one personal travel assistant application for frequent fliers, its eponymous App in the Air. The app offers many essential functions from real-time flight updates to an AR luggage measurement tool, and its audience has grown from a small network of dedicated fliers to over six million active users with 20 million itineraries tracked per year. In response to COVID-19, the app launched new 'travelsafe' tools making it easy to search travel restrictions, airport and airline requirements, and key health filters. App in the Air has earned esteemed accolades including one of Apple's Best Apps of 2015, the leading travel app in the Samsung Galaxy Store and a favorite Apple Watch app of 2018. Learn more at https://appintheair.com/.
About ExpertFlyer.com
Each month, ExpertFlyer's One-on-One blog goes face-to-face with the travel industry's leading decision makers to discuss and address topics relevant to many of today's business and frequent travelers.
ExpertFlyer.com was conceived and created by an eclectic team consisting of a veteran elite tier frequent flyer, an airline captain and corporate travel manager, and information technology professionals to deliver a 24/7 real time powerful air travel information service. The company provides its subscribers and corporate travel managers alike with a complete, concise, and efficient way to access the ever-changing details of worldwide air travel information. For more information, please visit expertflyer.com.
Stuck in the middle seat again? Download the free Seat Alerts app from ExpertFlyer and get the window or aisle seat without hassle or frustration.
# # #