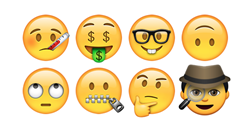 Interaction I have with clients has improved beyond 100%
(PRWEB) April 07, 2016
The little Japanese smiley icon has come a long way since its invention back in the late 1990s. However, the huge shift from personal to business usage has only recently taken place, in fact AppsGeyser can report that in the past few months there has been an increase of over 400% in the usage of Emoji in business apps and business app communication.
AppsGeyser regularly monitors the app content and push notifications that are sent by app creators to their app audience and it appears, the previously informal emoticons, now commonly known by their Japanese name, Emojis, have become acceptable within professional communication. The reason behind this huge shift in marketing trends is down to the way businesses are now expected to interact with their audience.
Emojis bring an informal touch to a company's communication with their audience, this short-hand way of communicating breaks both language and professional barriers, bring the audience closer to the business on an emotional level. Psychologists suggest that an audience that feels comfortable with a brand, and able to connect on a personal, rather than professional level, will become a stronger, more loyal audience base.
"I was reluctant to use Emojis in my communication with clients, I felt that it would be perceived as unprofessional," Amit Cohn told us. "But since I sent that first emoji, I can honestly say that the response and interaction I have with clients has improved beyond 100%."
"A picture tells a thousand words," states Vasily Salomatov, AppsGeyser CEO. "Emojis are allowing businesses to bring emotion to their apps and app message using one simple image."
About AppsGeyser
AppsGeyser, launched in February 2011, is now the biggest Free Android App Builder on the market. AppsGeyser's popularity has risen by enabling users to create apps with ease for Android devices from any web content in under five minutes. AppsGeyser has seen more than 2,828,000 apps created on its platform. There have been more than 1.309 billion installations of its apps.