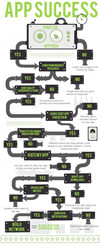 The removal of trending apps will now give way for newer and upcoming apps to be organically found.
(PRWEB) August 08, 2013
GooglePlay recently made some large changes to their search facilities which will affect how Android app makers optimize their apps for app stores. The recent changes have resulted in many apps that were not fully optimized being completely lost within the app store.
The main focus of the changes are clearly seen within the front page of GooglePlay, trending apps are no longer the main feature. Until July 15th apps that were able to hit 1000 daily downloads would feature within the app stores trending section. This feature encouraged apps that were already gaining decent download numbers to be focused upon and hence increasing their visibility further. The removal of the trending app section have opened the app store to all apps, making the system a lot 'fairer.'
Organic searches are now the main focus for app visibility and therefore app store optimization skills are vital to ensure app success. ASO techniques are strategic and include ensuring an app has correctly used key words within the app name and app description. For more information on ASO techniques, visit our blog.
AppsGeyser Android app creator Joshua Davis has updated his ASO, he told: "I felt that the way in which GooglePlay highlighted trending apps gave us smaller app makers a huge disadvantage, I'm much happier with the latest changes."
AppsGeyser Co-founder Vasily Salomatov, told us his views on the recent changes, "The Android app maker is very competitive, many app users will search the trending apps section when deciding upon new apps to download, the changes in trending apps will now give way for newer and upcoming apps to be organically found."
About AppsGeyser,
AppsGeyser, launched in February 2011, is a fast growing Android app creation platform. AppsGeyser enables users to create apps for Android devices from any web content in under five minutes. AppsGeyser has seen more than 508,000 apps created on its platform. There have been more than 351 million downloads of its apps.