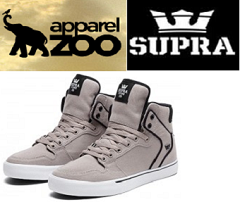 Los Angeles, CA (PRWEB) August 28, 2013
Apparel Zoo has made the announcement that they will feature the new sneaker designs by pro skaters Chad Muska, Terry Kennedy and Lil Wayne for the Supra footwear line on the ApparelZoo.com website. LAD Solutions has been hired in order to promote the new items and to increase sales.
Supra is a relatively new brand which was started back in 2006 by Angel Cabada, a California native. The company began only as a footwear company but gradually branched out to other items and now includes hoodies, snapbacks, beanies, and tees. The line is exclusively focused on skater wear and has been worn by famous celebrities such as Justin Timberlake, Lil Wayne and Jay-Z. The line focuses exclusively on men's wear and seeks to create a special look for guys that want understated style yet still want to have that urban skater look.
The pro skaters are responsible for the designs of the sneakers available on the Apparel Zoo website from Supra. Chad Muska has contributed to the line by adding his designs to the Skylow, Skytop, and Skytop II sneaker designs. Terry Kennedy has contributed to the designs of the Stacks, Society Mid and Society sneakers. Lil Wayne has designed the SPECTRE collection which includes the Chimera, Kondor, and Griffin sneakers.
The new items are currently available for sale on the Apparel Zoo website and come in a variety of colors and all feature the distinctive Supra logo. The pricing for these items are all about $100 with the cheapest items on the website starting at $20 for the company's signature beanies. The company has also been promoted by skating super stars such as Jim Greco, Tom Penny, and Antwian Dixon.
Apparel Zoo is a leading provider of urban and streetwear clothing and focuses on what is popular primarily in the West Coast of the United States with regards to the urban fashion scene. The company says that the items available on its website are available for both domestic and international shipping. There is no word yet however if the company will be offering additional products from Supra but Apparel Zoo has advised customers to continue to check back for the latest updates on this product line.
About Apparel Zoo:
Apparel Zoo is a Los Angeles, California urban clothing store and prides itself on being at the cutting edge of West Coast fashion trends. The company offers a variety of products from popular urban wear brands including Brock, Cadillac, Adidas and more. Many of the items are designed to appeal to skater culture, however there are so many styles available that shoppers can choose from the looks that meet their own personal styles. For more information on the company and the products available for site, check out their website at ApparelZoo.com.