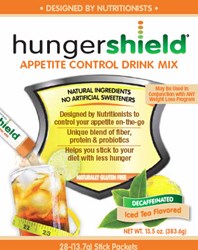 We'll be pleasing thousands of current and new customers everywhere with this new, delicious alternative.
Scarsdale, NY (PRWEB) January 28, 2014
For those whose taste buds and waistlines are ready for a change in 2014, HungerShield, the widely popular, all natural, appetite control drink mix is now expanding its line of products by providing consumers with the choice of a new Iced Tea flavor. This addition to the original HungerShield Lemon-Lime flavor will allow those who want to successfully diet a refreshing alternative.
Dafna Chazin, MS, RD, nutritionist and co-founder of HungerShield explains, "We developed this new flavor because while customers love the original taste of lemon-lime HungerShield, say Chazin. The iced tea version offers the option of a slightly sweeter, less tart variety in a refreshing flavor most people love. We'll be pleasing thousands of current and new customers everywhere with this new, delicious alternative."
About HungerShield
HungerShield is an innovative appetite control drink mix created by four registered dietitians: Elizabeth DeRobertis MS, RD, CDN, CDE, Heather Zeitz RD, CDN, Elizabeth Pecoraro MS, RD, CDN and Dafna Chazin MS, RD, CDN. It is the only product in this category that was created by healthcare professionals and can work in conjunction with every diet plan.
Designed to curb your appetite until your next meal, HungerShield allows people to diet successfully by reducing their desire for unnecessary snacking between meals. It is a blend of all natural ingredients such as protein, fiber, and probiotics and contains no artificial sweeteners. HungerShield is naturally gluten free, and safe for people who are lactose-intolerant or diabetic. Each box, retailing at $34.99, contains 28 convenient on-the-go stick-packs so HungerShield can keep help people stay full and on track with their weight loss program.
HungerShield is available at Fairway Market, Wegmans, and selected health food stores, specialty stores, and pharmacies across the nation. It can also be purchased on-line at http://www.hungershield.com. Visit the website for more information. You can follow HungerShield on Twitter @HungerShield and on Facebook.