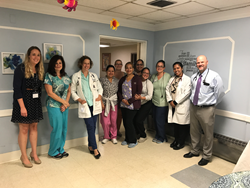 Kensington, CT (PRWEB) August 28, 2017
Ledgecrest Health Care Center, part of Apple Rehab Inc., recently hired Dr. Scott Walker as its new medical director. "Dr. Walker was recommended to us by our previous medical director, Dr. Joseph Anquillare. Both are providers for Starling Physicians. Dr. Walker seemed like the perfect fit after our first meeting with him. He connected with our staff easily and fit into our family-like community," said Kerri Kuhn, administrator at Ledgecrest Health Care Center.
The medical director at Ledgecrest Health Care Center, a rehabilitation and long-term living facility, assures that quality medical care is provided in the facility and acts as each resident's personal physician during their stay. Dr. Walker is board certified in internal medicine and a former clinical instructor at New York Medical College.
Furthermore, Dr. Walker sat on the board of directors for the ACO at Integrated Care Partners and was the vice president of the Hartford Physicians Association. As a hospitalist at Hartford Hospital, Dr. Walker developed a program in conjunction with the Physician Health Organization to ensure proper screening for patients with osteoporosis and improve communications with primary care physicians.
Ledgecrest Health Care Center, nestled in the hills of Kensington, CT, offers a tranquil setting for rehabilitation and long-term living. Its skilled nursing care is delivered in a warm, homelike atmosphere that encourages rehabilitation and recovery.
About Ledgecrest Health Care Center, Apple Rehab Inc.
Ledgecrest Health Care Center programs are designed to help each resident reach his or her maximum potential, whether they are admitted for short- or long-term care. It provides physical therapy, occupational therapy, speech/language therapy and specialty services. Apple Health Care is the nation's leading privately held nursing home company. Consumer Reports has rated Apple Rehab as the best for-profit long-term care company in America. For more information, please call Ledgecrest Health Care Center at (860) 828-0583, or visit http://www.apple-rehab.com. Ledgecrest Health Care Center is located at 154 Kensington Road, Kensington, CT 06037.
About the NALA™
The NALA offers small and medium-sized businesses effective ways to reach customers through new media. As a single-agency source, the NALA helps businesses flourish in their local community. The NALA's mission is to promote a business' relevant and newsworthy events and achievements, both online and through traditional media. The information and content in this article are not in conjunction with the views of the NALA. For media inquiries, please call 805.650.6121, ext. 361.