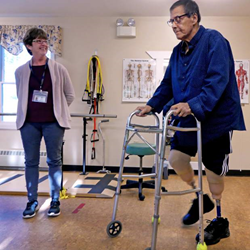 Westerly, RI (PRWEB) August 22, 2017
Nurses at Apple Rehab Watch Hill, a nursing and rehabilitation facility nestled on five acres at picturesque Babcock Cove, recently received training and certification in Closed Pulse Irrigation™ (CPI) for wound care. This qualifies Apple Rehab Watch Hill, which has a prestigious five-star rating from the Centers for Medicare and Medicaid Services, to have a CPI machine that will provide better quality wound care. CPI can increase healing up to 50% faster for complex wounds.
CPI is an innovative and safe pulse irrigation system used to treat chronic non-healing wounds, utilizing the protection of a totally contained wound irrigation bag. CPI virtually eliminates the danger of bacterial cross-contamination and spread of drug-resistant infections. It also simplifies care for patients with difficult wounds and removes 85% of bacteria, biofilms and debris with each treatment.
"From day one nursing has been very attentive and respectful of my needs," said extended short-term rehab patient Amy R. "I feel that the nurses are well-qualified and kept me well-informed. Communication between staff and other departments is very good. Everyone gave me the confidence that my care was consistent towards my goal of a recovery within a reasonable time frame."
To further enhance patient care, Apple Rehab is excited to add The Big & Loud program to their list of services. It is offered to short-term patients, but more importantly is offered to long-term patients with Parkinson's Disease and other neurological conditions (MS, stroke, etc.) four days a week for a month. The Big & Loud program focuses on limb and body movement in people with Parkinson's, increasing amplitude. Big & Loud changes the approach to big steps, over-exaggerating movements, and projecting one's voice.
About Apple Rehab Inc.
Apple Health Care is the nation's leading privately held nursing home company. Consumer Reports has rated Apple Rehab as the best for-profit long-term care company in America. It offers physical, occupational and speech language therapies, highly-skilled nursing care, physician-driven programs, and specialty services. For more information, please call Apple Rehab Watch Hill at (401) 596-2664, or visit http://www.apple-rehab.com.
About the NALA™
The NALA offers small and medium-sized businesses effective ways to reach customers through new media. As a single-agency source, the NALA helps businesses flourish in their local community. The NALA's mission is to promote a business' relevant and newsworthy events and achievements, both online and through traditional media. The information and content in this article are not in conjunction with the views of the NALA. For media inquiries, please call 805.650.6121, ext. 361.