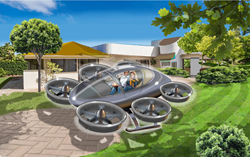 People have always dreamed of having a flying car.The Epiphany FLYING CARpet will make it a reality.
NEWPORT BEACH, Calif. (PRWEB) May 20, 2020
Today, Applied VTOL Concepts, an aircraft design innovator, announced it is developing the world's first practical flying car. The Epiphany FLYING CARpet is slated for initial testing in early 2021, the culmination of a 20-year effort.
"People have always dreamed of having a flying car," said Michael Moshier, founder and Chief Executive Officer of Applied VTOL Concepts. "The Epiphany FLYING CARpet will make it a reality. Designed with extraordinary safety, utility and comfort in mind, the Epiphany's ducted fans have been in the works, undergoing development and testing, for years. We're finally ready to share it with the public."
Work on the Epiphany FLYING CARpet began with full-scale ducted fan development and wind tunnel testing under a previous $5M DARPA contract with support from NASA Ames. This initial testing was carried out by Trek Aerospace, Moshier's previous start-up company, on the SoloTrek XFV, which was awarded Time Magazine's Invention of the Year.
The Epiphany is designed for one or two passengers, has easy ground maneuverability and can be parked in a standard garage (the ducted fans can be flipped up). Twin, state-of-the-art, turbo-generators provide electrical power to multiple ducted fans using safe (non-explosive) diesel or bio-fuel, with no batteries to charge. Fault-tolerant, computer fly-by-wire control and stability make the craft simple to operate, rain or shine. Seamless, reliable backup power is always available to the fans in the unlikely event of generator power interruption.
With an estimated speed of 100+ mph and an estimated range of 150+ miles, Epiphany features true VTOL capability and an advanced hybrid propulsion system which provides quiet, ultra-efficient, and reliable door-to-door personal transportation – without the need for roads or airports.
Moshier, a serial entrepreneur, is a former U. S. Navy jet pilot with a background in aerospace engineering and VTOL aircraft design. His piloting experience includes both fixed-wing aircraft and rotary-wing aircraft.
To learn more about the Epiphany FLYING CARpet and follow its development, visit https://epiphanyflyingcarpet.com/.
About Applied VTOL Concepts
Based in Newport Beach, California, Applied VTOL Concepts designs and develops unique aircraft for the modern pilot. Its founder, Michael Moshier, designed and developed the SoloTrek XFV, a vertical take-off and landing (VTOL) "back-pack" style aircraft that received worldwide attention and was awarded Time Magazine's Invention of the Year. The company's Epiphany FLYING CARpet is currently undergoing development with expected flight demonstration in 2021.
Learn more by visiting the website or following Applied VTOL Concepts on LinkedIn or Facebook.