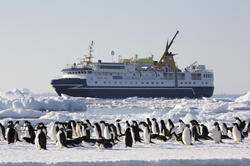 "Twenty years ago, we introduced an innovative way of traveling to Antarctica. ... To celebrate our anniversary this year, we are giving one lucky person a chance to win a trip to Antarctica and share in our passion for the continent," says Jaime Vasquez, Antarctica21's President
SANTIAGO, Chile (PRWEB) January 24, 2023
Can penguins fly? How many people can answer that question with confidence? There's scientific confirmation that, in fact, penguins do not fly – but Antarctica21 does fly to Antarctica.
Antarctica21, the adventure travel specialist that pioneered fly-and-sail expeditions to the White Continent, turns 20 in 2023. To celebrate its birthday and promote knowledge and understanding of Antarctica and Antarctic penguins, it is searching far and wide for penguin lovers around the globe. From January 24 to March 17, 2023, they can apply to be Antarctica21's Chief Flying Penguin Officer and win a free trip.
"Twenty years ago, we introduced an innovative way of traveling to Antarctica," says Jaime Vasquez, Antarctica21's President. "With a two-hour flight from the tip of South America, visitors can reach the White Continent quickly and in comfort, saving the two-day ship crossing over the rough waters of the Drake Passage. To celebrate our anniversary this year, we are giving one lucky person a chance to win a trip to Antarctica and share in our passion for the continent."
From all qualified entries, Antarctica21 will randomly select one lucky person to travel free of charge to the White Continent on board the sturdy Ocean Nova expedition ship. Travel will be on the December 7-14, 2023, Classic Antarctica Air-Cruise in a Single Cabin – a USD $17,795 value. The prize includes the round-trip flight between Punta Arenas, Chile, and Antarctica; five nights of accommodations on the ship with full board; all guided zodiac and shore excursions in Antarctica; two nights of lodging in Punta Arenas pre- and post-expedition; and more.
Responsibilities of the Chief Flying Penguin Officer include traveling to Punta Arenas to join the expedition, attending shipboard presentations by polar wildlife experts, and exploring Antarctica on land and sea to learn firsthand about penguins and their habitat. The polar plunge is optional, but highly recommended.
To apply to be the Chief Flying Penguin Officer, download the Antarctic Penguin Study Guide to learn about penguins, then fill out the entry form, answering the three questions about penguins correctly. The winner will be selected from all entries with correct answers and will be announced on March 17, 2023. Participants must be 18 years of age or older to enter.
Find out more about how to win the free fly-and-sail expedition to Antarctica at https://www.antarctica21.com/chief-flying-penguin-officer-entry/.
About Antarctica21
Antarctica21 operates air-cruise expeditions to Antarctica. The Company was founded in 2003 by adventurers who believed there was a better way to travel to the White Continent. Before Antarctica21, travelers who wanted to reach the Antarctic Peninsula had only one option: a 2-day sail across the notoriously rough seas of the Drake Passage. However, since 2003, the Company's boutique wilderness adventures have offered a more comfortable alternative. A two-hour flight takes guests from Punta Arenas, the Chilean gateway to Patagonia, directly to Antarctica, where they then board their expedition ship. No stormy crossing. No seasickness. Just quick, total immersion in the adventure of Antarctica. The Company operates small expedition vessels with a maximum of 76 guests, offering flexibility and access that larger ships simply can't match. Guests get on and off the ship efficiently, so their time ashore is focused where it should be: savoring every moment of a travel experience unlike any other. For more information, visit https://www.antarctica21.com/.