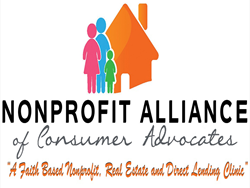 LOS ANGELES (PRWEB) May 20, 2021
Devastated by the pandemic's effect, Sylmar residents David Contreras and Marisol Cortez were facing an imminent trustee sale after the ban on foreclosures was lifted. However, through the aid of the Nonprofit Alliance of Consumer Advocates they received almost a 40% principal reduction off their mortgage right before their home was foreclosed on by their lender.
Homeowners for over 18 years Marisol Cortez and her husband David Contreras had now been unable to make their mortgage payments on time due to many unfortunate life events. Unfortunately, more and more homeowners across the United States are finding themselves in this situation due to the unsustainable repayment demands made by their lenders after the Federal Moratorium on foreclosures was lifted.
Like several other apprehensive homeowners, the Contreras-Cortez's worked with countless attorneys and consultants only to be unsuccessful in saving their home. Multiple costly and futile attempts thereafter, a friend of the Contreras-Cortez's referred them to the Nonprofit Alliance of Consumer Advocates for assistance.
Through its Senior Legal Services Director, Attorney Peter Nisson, the nonprofit legal clinic focuses on helping struggling homeowners avoid foreclosure by offering completely free legal loan modification help and other more aggressive expert loss mitigation strategies.
In exchange for its completely free pre-foreclosure assistance Nonprofit Alliance of Consumer Advocates just asks its clients to voluntarily donate three to four bags of canned goods and non-perishables. Upon being successful in obtaining their clients loan modification the Nonprofit legal clinic also asks that its clients make voluntary donations to Veterans Outreach OC and Home for Heroes, whose purpose is to help feed and house homeless U.S. Veterans. Some of those U.S. vets who were previously homeless are now employed through the Nonprofit clinic. In addition to helping the homeless they only ask for the First Right of Refusal on their next mortgage services, real estate services and legal services. This will generate more donations to Homeless Veterans as well as help the clients obtain Wholesale Mortgage Rates once they help you re-establish your prime borrowing criteria through their comprehensive Borrowers Restoration Program.
The Nonprofit Alliance of Consumer Advocates quickly stepped in for Mr. and Mrs. Contreras-Cortez and submitted a last minute free loss mitigation package to their lender that by law put a cease and desist on all foreclosure activity until their lender responded to the Nonprofit Clinic with its 501 C3 credentials established by the government since 2007. As an additional plan they also had a backup listing agreement with one of their allied real estate brokers in the event the lender wouldn't work with them. So as to leave nothing to chance they also had several private investors and hedge fund partners ready to purchase the defaulted mortgage as well as possibly purchase the property with a lease to Own Buy-Back Agreement until the Contreras-Cortez's were able to go through their 12 month Borrowers Restoration Program. This would allow them to buy back their home for a pre-agreed upon price in as little as 12 short months, all to try and provide for every possible contingency. With an unpaid principal balance of $387,621.46 they were delinquent $345,591.00 with a total mortgage payment of $10,393.16 a month. The Nonprofit Alliance of Consumer Advocates helped reduce their interest rate from adjustable 5.875% to a low fixed 3% and lowered their mortgage payment down to $3,744.33.
Mr. & Mrs. Contreras-Cortez still cannot express their sincerest appreciation enough to the Nonprofit Alliance of Consumer Advocates for working so hard in obtaining such a phenomenal loan modification through a pandemic. Especially when they had mentally and contractually prepared to sell their home to avoid being foreclosed upon.
The Nonprofit Alliance of Consumer Advocates main goal is to properly inform and educate you of all viable options available to avoid continued hardship that can result in foreclosure. To provide you with enough information and resources to make the best long-term decision for you and your family. For assistance call (855) 622-2435 or visit them at http://www.Nacalaw.org